UCLA ANDERSON FORECAST
Growing Economy Will Lead to Rising Interest Rates Soon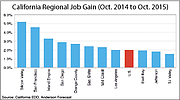 The long-awaited moment may be here. The U.S. government is expected to boost federal interest rates this month.
For nearly seven years, federal benchmark interest rates have been hovering around zero, but UCLA economists are predicting that the Federal Reserve will start lifting benchmark interest rates very soon as the economy continues along a measured growth path.
By the end of 2016, those federal rates could inch up to 1.5 percent, and by the end of 2017 they could reach 3.25 percent. "With the financial emergency long over, the unemployment rate indicating near full employment and the likelihood that inflation will soon approach its 2 percent target, we expect the Fed to begin normalizing interest rates by increasing the federal funds rate this month," wrote UCLA Senior Economist David Shulman in the "UCLA Anderson Forecast for the Nation and California," which was released on Dec. 2. The forecast extends through 2017.
While other countries around the world are still experiencing slow growth and challenges, the United States will move ahead at a good pace next year. Meanwhile, businesses will see a reprieve in the inventory glut that hung on through the summer. "The growth in real inventories declined from $113.5 billion in the second quarter to a more normal $90.2 billion in the third quarter," Shulman wrote in the report.
With the majority of the inventory correction behind us, UCLA economists foresee a 3.1 percent expansion in the nation's gross domestic product next year—the most vigorous since 2005 before the Great Recession took hold in 2008.
Next year, bright spots in the economy will be in residential and commercial construction. The new housing market is expected to see starts of 1.4 million units in both 2016 and 2017 compared with an estimated 1.14 million units this year.
Another strong sector is the auto industry, with car sales speeding along. "Evidence of the robustness of consumer demand is coming from red-hot automobile sales, where it now appears that selling rates on the order of 18 million units [this year] might be the new normal," Shulman said, noting that low interest rates, a growing economy and low gas prices have fueled growth.
The Golden State
Just as strong as the U.S. economy is California—home to high-flying technology companies, real-estate developers and the entertainment industry.
The state has been adding jobs at a faster clip than the United States, and that should continue into 2016 and 2017.
Growth areas will be in the business and professional services sector as well as leisure and hospitality, said Jerry Nickelsburg, UCLA Anderson senior economist.
Tourism has been on the rise this year, with record numbers of passengers arriving at the international airports in Los Angeles and San Francisco.
International passenger arrivals were up 20 percent this year over last year at Los Angeles International Airport and up 25 percent at San Francisco International Airport. "In spite of the strong dollar, international arrivals are increasing at a pretty good clip," Nickelsburg said. "The second part of that equation may be lower fuel prices, which means transportation costs are lower."
Next year, Nickelsburg anticipates that many U.S. tourists may prefer to keep their holiday plans limited to the United States because of so many overseas terrorism incidents in Europe and other areas. "If they stay closer to home, where do they go? California is one of the places you would think they would visit with the beaches, Hollywood, Yosemite National Park and San Francisco," he said.
Another fast-growing sector in California is residential construction, which will continue to grow. "The new housing units permitted increased over the last three months to levels last seen at the end of the 1990s," Nickelsburg noted in the report.
Housing construction remains dominated by apartment buildings, but that will change as payrolls grow and families want to expand into houses.
After a slow start this year due to difficult labor negotiations, activity at the state's seaports is revving up as U.S. residents have more money in their pockets to buy goods that are imported through gateways such as the ports of Los Angeles, Long Beach and Oakland. The Port of Los Angeles and the Port of Long Beach account for 40 percent of all the cargo-container volume coming into the United States.
As of September, port activity [in the state] was at historically high levels equal to the peak in 2007, right before the economy nosedived, Nickelsburg noted. Imports are carrying the day, but exports have declined since 2013 because many of the nation's major trading partners—Canada, China and Japan—have seen their economies cool off.
Imports will continue to be strong from Asia, but exports will still lag. Canada and Japan will make a comeback, but China will take another two years before it starts growing more rapidly.
With so many industries on the upswing, California's unemployment rate should continue to decline from its current 5.8 percent, which is slightly higher than the nation's 5 percent unemployment rate.
The UCLA Anderson Forecast calls for California's total employment to grow by 2.6 percent in 2015, by 2.1 percent in 2016 and 1.4 percent in 2017.
California's payroll growth is a tad more vigorous, with salaries up 4.3 percent in 2015 and predicted to grow 3.4 percent in 2016 and 3.2 percent in 2017.
By the end of 2017, the UCLA Anderson forecast calls for California's unemployment rate to dip to 4.9 percent, close to the nation's rate.
UCLA Anderson economist William Yu points out that employment at offices in the San Jose and San Francisco area have taken the lead in growth over office employment in Los Angeles.
One reason Los Angeles lags behind is that a significant number of jobs were lost in the finance sector after the financial crisis that began in September 2008 with the collapse of Lehman Brothers, then the fourth-largest investment bank, which filed for one of the largest bankruptcies in history.
"We haven't come back to the pre-recession peak," Yu said, "but we are very close. There is a 2 percent gap."
Yu said Los Angeles needs to "enhance our human capital, starting with public education and even preschool resources. In the 21st century, human capital is the most important thing in this country."