MANUFACTURING
Newsmakers 2015: Fashion Business Inc.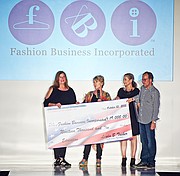 Now in its 16th year, Fashion Business Inc. continued its mission to provide fashion-industry education and professional insight to startup and growing apparel companies.
This year, the nonprofit organization expanded its reach when it hosted a pair of B2B seminars in Chicago during the Chicago Textile Expo. In addition to Chicago, FBI presented seminars in Los Angeles, San Francisco, Las Vegas and Miami, where it hosted a "Launch Your Apparel Business" bootcamp in September.
FBI received some financial assistance for its efforts retraining displaced apparel workers when Fashion Group International–Los Angeles presented FBI with a check for $19,000 from the Fashion Group Foundation to help fund its retraining and fashion education efforts.
FGI made the presentation at FBI's fifth annual All Aboard Runway Show at Union Station in downtown Los Angeles in October. Co-hosted by ABC7 Eyewitness News Anchor David Ono and reality-show actress Erica Ash, the event included a runway show highlighting the work of eight designers and brands, including Diane Focil, designer of AS by DF and ASTARS, who received the Moss Adams Fashion Innovator Award (MAFI) and presented looks from the Spring '16 collection for AS by DF. FBI founder Frances Harder and Executive Director Trish Concannon presented Ayumi Shibata, designer of / éis /, with the "Emerging Designer of the Year" award and presented looks from her collection.
This year, FBI teamed up with CIT to host "Pitch to Launch," an event that gives apparel companies an opportunity to pitch their businesses to potential investors. FBI members also had a chance to meet with industry experts at one of FBI's "Speed Consulting" workshops, where they had a chance to seek advice about specific business and legal issues.