EVENTS
Newsmakers 2015: New Players at L.A. Fashion Week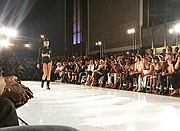 The Los Angeles Fashion Week scene is typically an ever-shifting landscape, and this year proved no different with new players, new partnerships and a few no-shows.
The newest player in the field was LA Fashion Week, which debuted in October at Union Station in downtown Los Angeles. The event's lineup included 33 designers hailing from across town and around the world, showing over the course of five days.
Another newcomer was Fashion Week Los Angeles, also held in October at Union Station. The one-day event featured panel discussions and runway shows featuring the latest collections from California and national designers.
Returning events included Style Fashion Week, which was held again at The Reef in downtown Los Angeles. But rather than set up a tented venue outside, this season's runway shows were held inside, with two runway spaces alongside the streetwear trade show Venue. Style Fashion Week featured nearly 50 runway shows as well as an art exhibition.
Also returning was Art Hearts Fashion Week, held at The Taglyan Complex in Hollywood, where organizers held more than 30 runway shows and events over four days.
Missing from October's events were two longtime organizers, LA Fashion Council and Concept Fashion Week. After seven seasons, LA Fashion Council organizer Kelsi Smith announced in July that she was bowing out of the Los Angeles Fashion Week lineup but will continue to serve emerging designers with marketing, public relations and production functions.
RELATED STORIES