FASHION
Newsmakers 2015: Otis Fashion Design School to Leave Downtown L.A.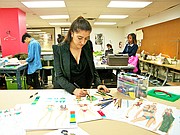 Many can't imagine that the fashion design department of the Otis College of Art and Design could be any other place but in the heart of the Los Angeles Fashion District.
But school administrators gave notice this year that on July 1 they will be packing up and moving out of their 38,000-square-foot space on the California Market Center's second floor. The fashion design students will join the other Otis students at the college's main campus, near Los Angeles International Airport.
The fashion design department has been anchored at the CMC for some 20 years, a spot that enabled students to soak up the creative ambience provided by local designers and clothing companies that have their headquarters in the LA Fashion District. And there are plenty of fabric and trim suppliers in the area to provide material for student fashion projects.
Otis executives wanted to move to a smaller space within the CMC building to reduce the college's rent, but negotiations with the CMC's owner failed to come up with a solution. So the decision was made to move the fashion department to the main campus.
In its new location, the fashion department will be occupying a brand-new, four-story building being built. The building has two wings—one for a dormitory and another for classes and student services.
This will be the third location for the fashion design department. When Rosemary Brantley, a graduate of Parsons School of Design in New York, launched the department in 1980, Otis was located near MacArthur Park, a few miles away from downtown Los Angeles, in an older neighborhood, where the school originally was founded in 1918 by Los Angeles Times publisher Harrison Otis. It was called the Otis Art Institute.
By 1997, the growing art school moved to Westchester and into an old IBM research facility. However, Brantley and the fashion department's associate chair, Jack Handford, convinced the school's administrators to transfer the fashion department to the California Market Center, then called the California Mart.