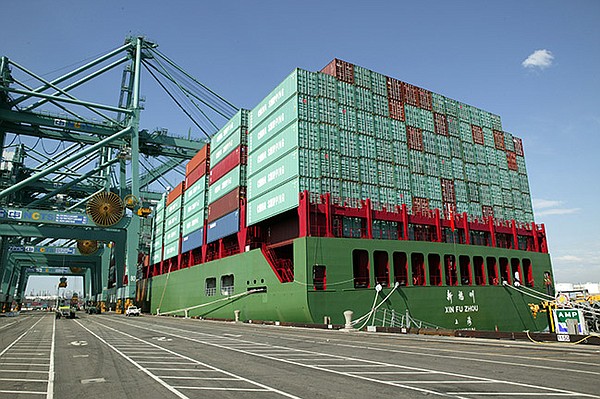 TRAFFIC JAM

More Chassis May Not Solve Peak Port Congestion Problem

In March, a more streamlined chassis fleet should be up and running at the Los Angeles/Long Beach port complex, making it faster and easier to get and return the wheeled frames.
But that might not be the ultimate solution to the cargo-congestion problem that is always a challenge before the holiday season, when a flood of goods comes rushing through the ports.
This month, four companies are starting a "gray," or neutral, chassis pool at the Port of Los Angeles and the Port of Long Beach, which should be fully operational by March.
Everyone is hoping this will alleviate the problem of quickly finding a chassis to load and unload cargo containers and having a better supply. Yet there are doubts.
"We are still concerned there will not be enough chassis for peak season," said Jon Slangerup, chief executive of the Port of Long Beach, speaking on Jan. 28 at a logistics seminar at the port's headquarters in Long Beach, Calif. The seminar was organized by the American Apparel & Footwear Association, headquartered in Arlington, Va.
As larger cargo container ships, known as mega-ships, keep arriving at the two ports, containers quickly stack up on the docks. "There are ships coming in that are carrying 14,000 TEUs [20-foot containers]. They are as long as the Empire State Building is tall and 10 freeway lanes wide. This is a massive, massive ship," Slangerup said. In the past, the average vessel carried 8,500 20- foot containers.
The "gray" chassis pool is a plan between three chassis leasing companies and one marine terminal operator to work together to provide chassis in a more efficient and interoperable manner. This means you can pick up a chassis from one company and drop it off with another company. Those companies are Direct ChassisLink, TRAC Intermodal and Flexi-Van Leasing as well as SSA Marine, which operates three container terminals at the ports and has its own chassis fleet. Combined, the four entities control about 95 percent of the chassis at the two ports.
Chassis shortages and dislocations have been a major contributor to the port congestion problem in Southern California along with bigger ships and a labor slowdown by longshore members working without a contract. Getting the kinks ironed out of the chassis problem is key to getting the ports running efficiently.
"The 'gray' chassis pool will add fluidity to the system, but it is not going to mean everything will be hunky dory," said Phil Connors, executive vice president of Flexi-Van Leasing.
He noted that during the second week of this year, there were 5,800 chassis in marine terminals "that had not seen the light of day for 15 days or greater." Some of those were damaged, but some of them were fully functional chassis stacked among the ones that needed to be repaired.
Another kink in the system is that in recent weeks, marine terminals have not been accepting empty cargo containers to load onto ships because there was just not enough room to stack them on the overcrowded docks. "Some terminals have been saying, 'Don't bring me your empties,' " Connors complained. "Well, underneath that empty [container] is a chassis."
Toll Time
As ships get larger, one solution to the congestion problem might be charging a fee for peak-season delivery.
Keynote speaker Anne Goodchild, an associate professor of civil and environmental engineering at the University of Washington, said charging more for optimum delivery times might even out cargo traffic. "Demand will likely be increasingly managed with price, like time-based pricing on highways with tolls," she said.
Already at the Los Angeles/Long Beach port complex, importers and exporters pay a premium to pick up and drop off cargo containers during the day under the PierPass Inc. system, implemented in 2005.
Freeway traffic and clogged roads are another problem. The Port of Seattle has been losing market share for five years, Goodchild noted, because it is located near an urban area where it takes longer to get goods in and out of the port over highways that are already clogged with urban traffic. "If you look at the West Coast over time, I think you'll see that the ports that are most congested will be suffering," she said.
Leadership, she said, is required to identify new transit corridors, channel investment into roads and terminal expansion, and develop an industry-performance measurement that will identify weak spots in the system and improve them.
If solutions don't come soon, cargo could be diverted to places such as Prince Rupert Port, in British Columbia, Canada. The small port opened its first cargo-container terminal in 2007 and transports all containers by rail to destinations in Canada and the United States. Last year, it handled 500,000 20-foot containers and is hoping to boost its cargo traffic to 2 million containers by 2020.
By comparison, the Port of Los Angeles handled 8.3 million 20-foot containers in 2014, up nearly 6 percent from the previous year.
Meanwhile, apparel and footwear importers are fine-tuning their plans to deal with port congestion.
Last May, Sean Gallagher, director of logistics and transportation for VF Corp., met with his team to evaluate how to best manage the 15,000 to 17,000 containers arriving yearly at the Los Angeles/Long Beach port complex.
VF Corp.—whose 25 labels include Vans, The Northface, Wrangler, Lee and Timberland—decided not to divert its cargo away from the two ports because so much inventory needs to be positioned on the West Coast. "Right now we are working with the hand we were dealt," Gallagher said, noting it has been a challenge.
To get containers off ships quickly, he has been analyzing recent dwell times and discharge times at the various terminals and then adjusting his carrier allocations because not all terminals are congested equally. "If we see they are struggling, we are then switching to other carriers and diversifying across terminals," he said.
Also, VF Corp. has its own small fleet of truck drivers who make long-haul trips. But with port truckers in short supply right now, VF Corp. took 10 days to train 40 truckers to pick up cargo at the port terminals, which is a special skill. "It enabled us to be very surgical to get containers that were targeted and critical," he noted.
VF Corp. also rented around 25 chassis for its storage yard to make sure the company had easy access to wheels for transporting containers.
One strategy that hasn't been used yet is "buying" a gate, or paying to open a closed terminal gate during off hours. All gates are closed on Sundays, and some are shuttered on Saturdays. Opening a gate can cost anywhere from $40,000 to $80,000, but if it is done with a few other importers, it is more cost effective. "This is an area we continue to evaluate," Gallagher said. "I'm not sure we are out of the woods yet."