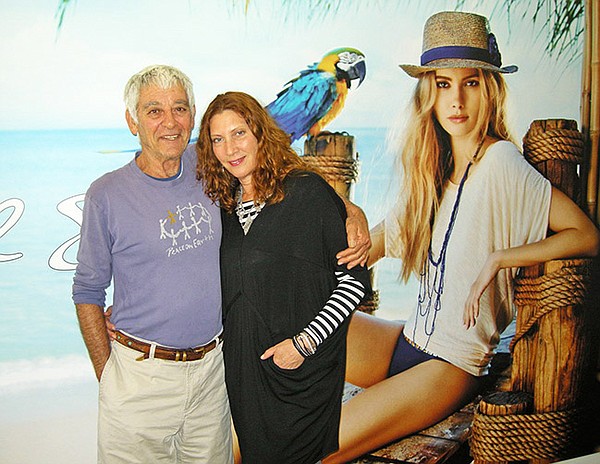 RETAIL | MANUFACTURING
New President at the Helm of Michael Stars

After 30 years as president of contemporary clothing label Michael Stars, Michael Cohen has stepped down as the head of the company, turning the job over to his wife, Suzanne Lerner. His title is now chairman of the board.
The new position is not much of a stretch for Lerner, who co-founded the company in 1986 with Cohen when Michael Stars was basically a T-shirt line with artsy graphics. But Lerner had been primarily spearheading the marketing, merchandising and sales side of the business with her Lerner et Cie showroom at the Cooper Design Space in Los Angeles, where she represents Michael Stars' men's and women's clothing and accessories and Koral, a denim line founded by denim kingpin Peter Koral and his son, David.
"Last year I was named executive vice president because Michael decided he wanted to semi-retire," Lerner said. "I was involved in marketing, helping in the inspiration of the clothes, colors and styles, but I spent more of my time in the showroom."
Now, more of her time will be spent in the company's headquarters in Hawthorne, Calif., where she will expand the new menswear collection, open new stores and launch a licensing collaboration with sustainable brand Under the Canopy. Still, she and Cohen live and breathe the label and frequently talk about the company at home.
Under her new title, the new year kicked off with actress Lena Dunham being featured on the February cover of Elle magazine wearing a black Michael Stars T-shirt.
For Lerner, several expansion plans are in the works. Michael Stars is opening three new stores this year in major high-end shopping centers to add to the fleet of 12 outposts located in California spots such as Malibu, Manhattan Beach, Newport Beach and Laguna Beach as well as New York, Atlanta and Scottsdale, Ariz.
At the end of April, the label will be setting up shop at the Ponce City Market in Atlanta. At the end of July, Michael Stars will open an emporium at The Point, a new lifestyle shopping center being developed on Sepulveda Boulevard in El Segundo, Calif.
This fall Michael Stars opens a 2,000-square-foot flagship store at 8547 Melrose Ave. in West Hollywood. To tackle the perennial parking problem in that area, there will be valet parking.
Lerner picked this location because she believes it is an up-and-coming neighborhood, near an Urth Caffé, close to a Rag & Bone store and across the street from the new 40,000-square-foot RH West Hollywood, The Gallery, a high-end showroom by Restoration Hardware.
"We are targeting opening three stores a year," Lerner said, noting the label is also carried by about 1,000 specialty stores across the country and at Bloomingdale's.
Lerner will continue to expand upon the men's collection introduced last fall and embark on a licensing deal to co-create and manufacture the sustainable brand Under the Canopy. She is shooting to place the label, made in a Global Organic Textile Standard factory in Turkey, in stores such as Whole Foods; on the online site Ethica, which sells eco-friendly sustainable fashions; at Rodale's;and at Pharmaca.
The company continues to make its entire T-shirt and activewear line in Los Angeles while about 70 percent of its contemporary collection, which includes sweaters, is made in China.
One more change coming for the company is this: "I am getting all new furniture for my office that I have shared forever with Michael," Lerner said.