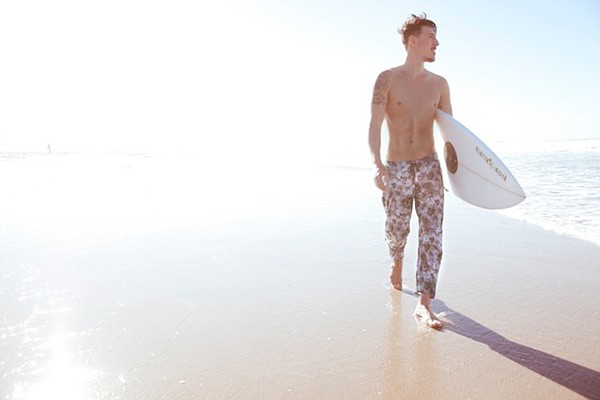 ELECTRIC & ROSE
From Venice With Love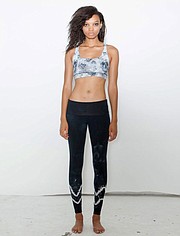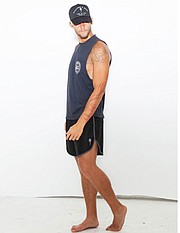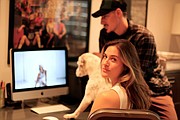 With roots in yoga and surfing, Electric & Rose is a lifestyle collection that draws its name from Los Angeles' Venice neighborhood, which is home to company founders Eric Balfour and Erin Chiamulon.
The couple created the line, which officially launched for Fall/Winter 2014, to bridge a gap between fashion and their active lifestyle.
"There weren't any cool activewear lines that were edgy and fun, especially when it comes to men's," said Balfour, an actor whose résumé includes "Haven," "24" and "Six Feet Under."
Chiamulon had worked as a stylist for WWD before launching her own line of T-shirts called January.
When the two decided to launch Electric & Rose, it became a personal project that reflects their life, their relationship and their friends.
"I didn't come from fashion, but I was always interested in fashion. Also, I wanted to build something together," Balfour said, recalling when the couple landed their first big order from the Equinox fitness chain. Balfour was filming in Nova Scotia when Chiamulon called to deliver the news.
"I collapsed on the floor," Balfour said. "I couldn't imagine sharing this with anyone else."
The collection features men's and women's activewear pieces such as T-shirts, leggings and shorts as well as fashion items such as a jogger and a jumpsuit.
All of the prints are custom, and many pieces feature art created by friends.
For example, the "Fireworks" print was designed from a photo a friend shot on a beach in Mexico. A T-shirt graphic of a couple holding hands was taken from another photo of two friends. And an abstract print was created first as a giant collage made with a group of friends.
"That's the greatest thing—getting to collaborate with friends," Chiamulon said.
Everything is made in Los Angeles, and nearly all the fabrics are sourced locally as well.
"I come from a family that built companies here [in Southern California]," Balfour said. "We're both third-generation LA."
The one imported fabric is a stretch fabric sourced from Taiwan that is used for the boardshort and the boardpant.
"We wanted it to be the strongest, lightest four-way stretch," Balfour said.
The shorts and pant feature a gusset for strength and ease of movement.
"It came out of functionality of what we do," Balfour said, telling about the time he ripped the inseam of another brand's boardshort while surfing in Venice and then had to bike home.
"Most boardshorts don't have a gusset—it's a complicated sew," he said.
Their boardpant style is designed to be an activewear piece as well as an easy-to-wear casual style.
"I surf in them. I do yoga in them. You can get on a plane and go to Costa Rica," Balfour said. "I live in them."
There's also a printed men's legging style made from a recycled plastic fabric that can be worn layered under shorts.
Wholesale prices range from $30 to $60 with some French terry pieces priced a little higher. Leggings will all retail for under $100.
In addition to Equinox, the line has been picked up by Ron Robinson, Azalea and YogaWorks.
Electric & Rose will show at Capsule in Las Vegas and at Axis in New York.
For more information, contact the Castillo Showroom in the Cooper Design Space at (213) 627-8992.