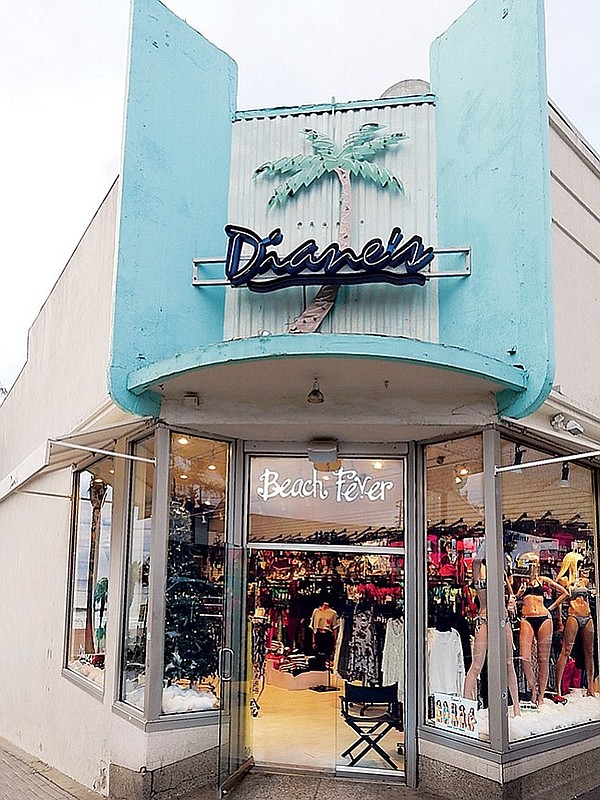 DIANE'S BEACHWEAR
Back to the Future

Diane Biggs could be considered the long-reigning "Queen of the Bikinis."
After 50 years in the swimwear business, she's seen it all. When she started selling swimsuits in the 1960s, bikinis that rode just below the belly button were considered scandalous. Acrylic was considered an innovative fabric touted for not fading in the sun. And if you needed a size-10 bottom and a size-8 top, you were out of luck. Separates were not sold separately.
Biggs could write a book about the evolution of swimwear, witnessing the transformation in everything from fit and fabric to fashion and form. "We live, breathe and eat swimwear here," Biggs said, sitting inside her corporate office, located in an industrial park in Torrance, Calif. Her white Maltese, named Leilani, sits on a pink cushion near her feet.
When Biggs launched her first store in Santa Monica, Calif., she did custom suits that were made in the United States. She now has 20 swimwear stores under her Diane's Beachwear nameplate, with the majority of them in Southern California.
There are no immediate expansion plans on the horizon, unless a fabulous location should materialize. Instead, Biggs had been looking back to her roots for retail change.
The swimwear maven just completed a 15-month remodel of one of the first swimwear stores started by her family 50 years ago in the then-sleepy surfside community of Manhattan Beach, Calif. The small town is now an affluent Los Angeles suburb that has been home to several professional athletes such as Tiger Woods, Shaquille O'Neal and Maria Sharapova. Many Lakers, Dodgers and Clippers players have staked out seaside real estate that sells for millions of dollars.
When Diane's 88-year-old mother, Mickie Bandle, opened Mickie's Swim Shop in 1964, Manhattan Beach had more of a summer resort feel to it. The swim store was on the main shopping lane, Manhattan Beach Boulevard, just steps from the Manhattan Beach Pier. It was Bandle's third location after her first two years in business. But it was the first location she owned.
The remodeled 1,800-square-foot outpost has an updated mid-century feel to it—with track lighting, bright orange mannequins and stylish dressing rooms. Upstairs, in another 1,800 square feet, are showrooms for swimwear labels who want an ocean view while displaying their collection to buyers.
Bandle is one of those people who got into the swimwear business by chance. Sitting inside her daughter's office, the spunky octogenarian talks about the box of Rose Marie Reid swimwear closeouts she bought, selling the slightly damaged goods to friends and neighbors for $5 a piece.
"They all loved it," said Bandle with a laugh. "They wanted me to have house parties. So I did, and everything went really fast. At first it was closeouts, and then we started ordering suits and went from there."
Bandle opened a hole-in-the-wall space on Manhattan Avenue, which was only a few blocks from the Manhattan Beach seashore. "We put a scrap of carpet on the floor, and my younger daughter, Carol, made the curtains. There was no plumbing," the pioneer retailer recalled.
Then she moved to another location before her husband, Lee, a sergeant with the Los Angeles County Sheriff's Department, found a vacant lot on which they built a two-story structure that became home to Mickie's Swim Shop, now the remodeled store with a new name, Mickie's Beach.
It was here that Bandle had custom­-designed suits made for her clients. They would be measured downstairs. Upstairs were about a dozen seamstresses who sewed the suits and had them ready in two to three days. They sold for $14 to $15.
"We had a lot of mother-and-daughter fights because bikinis were just coming into fashion, and nobody wanted their kid in a bikini," Bandle remembered.
At the time, the bikinis they sold were modest by today's standards. Bottoms fell just below the waist. They were paired with a cross-over reversible top.
One of Bandle's first marketing ideas was to take photos of her younger customers and then set up a Carousel slide projector in the store window that at night displayed a revolving photo show of the young women in their suits. "The kids would stand outside and look at all their friends," Bandle said. "Then the Catholic Church came down and said, 'No way.'"
For a while, Biggs worked at her mother's store. But then she wanted to be on her own. So her father helped her find a small retail spot in Santa Monica on the Third Street Promenade, which in the 1960s was a run-down, open-air pedestrian mall often frequented by more down-and-out homeless people than shoppers. It was years before the blocks-long strip was converted to what is now a sleek retail thoroughfare frequented by tourists and well-heeled shoppers alike.
Biggs' first swim shop was really the old candy counter of a movie theater that was being sublet for retail. Biggs called her store Bikinis by Diane, and it was open from March through Labor Day, fashioning custom-made bikinis for clients along with ordered merchandise.
About the same time, she and her best friend, Janette Van Doren, founded the swimwear line Sunsets, which was manufactured in Huntington Beach, Calif.
Van Doren was the designer, and Biggs handled other aspects of the business. But after one year of working 14 hour days, Biggs knew she couldn't do retail and manufacturing at the same time.
Van Doren continued the label. Eventually, Van Doren's son-in-law, Greg Stager, took over the business, converting it into a multi-million-dollar swimwear company with additional labels such as B.Swim, Aerin Rose and Swim Systems. Biggs still stocks the labels at her stores.
Shortly after launching in Santa Monica, Biggs opened her second store, in Long Beach, Calif.'s Belmont Shore shopping district, which is only blocks from the ocean. From there she started to slowly expand.
At one point in the early 1990s, when a recession saw many retailers going out of business and giving up space, Biggs had 36 pop-up stores in far-flung places such as Springfield, Mo.; Michigan; and Utah.

But in recent years she has decided to keep her stable of 20 permanent stores at a manageable number. She likes to be in prime beach or resort-centric locations.
Most of those are in California, in areas such as Laguna Beach, Palm Desert, Palm Springs, Huntington Beach and La Jolla. There are two retail spots in Arizona—Scottsdale and Phoenix. Biggs took over Mickie's Swim Shop about 35 years ago.
The Next Generation
Keeping things manageable and being on top of trends and new labels is part of Biggs' secret to staying in business for five decades. When other retail chains such as Water, Water Everywhere and Just Add Water were absorbed by swimwear retailer Everything But Water, Diane's Beachwear kept its independence.
Wednesdays at the corporate office are known as "vendor day," when a new swim line or an old swim label can stop by to show what is in its collection. "It's perfect for new swim lines that can't afford a showroom or reps," Biggs said. "I don't want to miss that up-and-coming designer."
Red Carter was one of those up-and-coming designers who got a break at Diane's Beachwear. "When I started my own business 10 years ago, Diane was one of the first people who gave me a chance to expose my talents," said the swimwear designer who is the man behind the Red Carter, Jones New York and Jessica Simpson labels. "She is really a spokesperson for talent and newness that keeps her innovative and fresh."
A. Ché is one of the newer swimwear labels on the shelves at Diane's Beachwear. A. Ché director of design Christie Weinberg believes the stores are a great destination shopping spot for swimsuits. "They customize the stores for each location," she said. "One of their strong points is the sales staff. They are very well trained, and they get a feel for what the customer is looking for."
To keep the look of her stores fresh, each outpost gets a total merchandise overhaul about every six weeks. Biggs sits down with one of her main merchandisers, Janice Brown, to analyze what is selling and what is not. Then they restock the store.
Over the years, Biggs has seen the swimwear retail business transition from a seasonal affair to a year-round venture. These days, people are traveling extensively and visiting more resorts where a swimsuit or two are a must. With that in mind, Biggs rounds out her merchandise with casual sweaters, long flowy dresses, coverups, tops, activewear and yoga wear. "We sell everything you need to pack into a suitcase to go on vacation," Biggs said.
Looking beyond its female customers, Diane is expanding to other demographics. The new Mickie's Beach shop has a section for men, complete with a black leather couch and a flat-screen TV, and another for children.
The retail chain's latest focus is appealing to the next generation—that teenage girl known as Generation Z. Biggs has been seeing the younger set taking an interest in her merchandise.
She recently advertised a warehouse sale at her industrial-park office and saw scores of 13-year-olds and other teens having their parents drop them off at 6 a.m. for the sale. Many were Instagramming the event.
"I'm not done yet," Biggs said inside her 6,000-square-foot headquarters, where 24 people work on everything from updating the website to managing the warehouse. "I am passionate for working. I get up at 4 a.m. and can't wait to get into work and look at my numbers."
RELATED STORIES