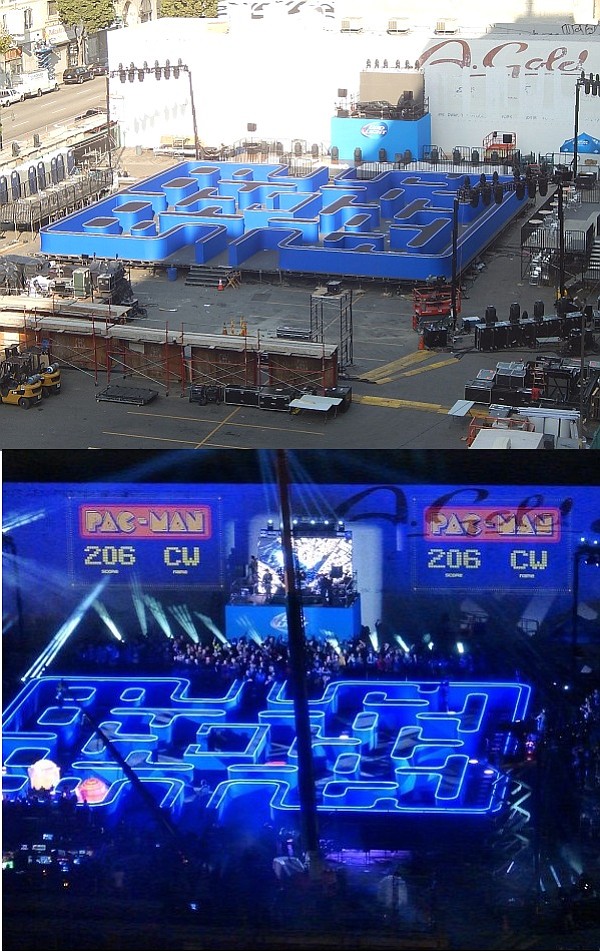 MEDIA
Pac-Man Comes to the Fashion District
For days now, we've been watching from our seventh floor perch in the California Market Center the three-day conversion of an ordinary parking lot across the street to a real-life Pac-Man set for a Budweiser Light commercial being filmed for the Super Bowl game.
Scores of crew members cobbled together an incredibly huge replica of the video game that took this country by storm in the 1980s. Everyone was addicted, pretty much like they are to beer.
This real-life model has blue walls with white lights around the top. When the action got going, roller-bladers donned illuminated bubble outfits that made them look like colorful ghosts. Loud music played, a cast of 400 extras cheered the Pac-Men on and lights flashed around a stage overlooking the Pac-Man game.
We assume that the prize at the end of the game was a Bud Light. But we'll have to watch the Super Bowl to see the end result.
Now we'll see how long it takes them to clear up the parking lot for The New Mart showroom people who normally park there.