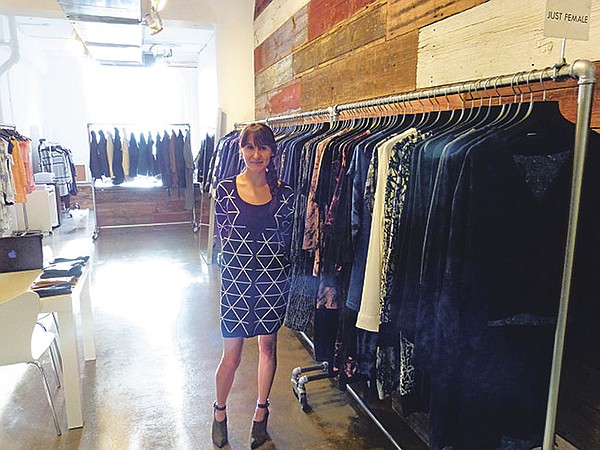 SHOWROOM PROFILES
Showroom Profile: Research and Development
Cooper Design Space, Suite 212
(310) 487-2513
www.rd-showroom.com/collections
Candice Clark, owner of the Research and Development showroom in the Cooper Design Space, shared a showroom on the building's second floor for about a year and a half but found she was outgrowing the space for her four collections: Just Female, Diarte, Della and Callahan.
In the days leading up to Los Angeles Fashion Market, a space opened up on the same floor, and Clark moved in. Located just off the elevators, the 750-square-foot space has reclaimed-wood walls, which was a good fit with the aesthetic and ethos of the showroom's lines.
The largest collection is Just Female, a Copenhagen-based line that sells in the U.S. to retailers such as Shopbop, Urban Outfitters and Nasty Gal. The 150-piece collection takes up the most space in the showroom and is wholesale priced from about $40 to $60, with some Fall pieces priced a little higher. "It's a really advanced look at a really good price," Clark said.
Madrid-based Diarte is made with all-natural fibers and produced entirely in Spain from fabrics sourced in the European Union. Wholesale prices range from $80 to $120. Clark said the collection is a good fit for her stores looking for eco-friendly fabrics and socially responsible production.
Another line for ethically conscious retailers is Della, which is produced in Ghana and made with original prints. The brand has done collaborations with brands such as Vans and retailers such as Urban Outfitters. Wholesale prices range from $25 to $45.
Los Angeles–based Callahan is a small knit line designed in the U.S. and produced overseas. Wholesale prices range from $60 to $90.
For Los Angeles Fashion Market, Clarke said she will have "a little of everything," including Fall and Summer goods as well as some Spring merchandise. Later this season, she will take her collections to New York and Las Vegas to show at Capsule.