FINANCE
Full Steam Ahead for 2015 as Economy Accelerates and Gas Prices Drop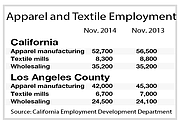 Just about everyone agrees that 2015 is shaping up to be a good year for the U.S. economy.
"We believe that 2015, barring any unexpected event, should be the best year since the beginning of the recession in 2008," said Esmael Adibi, director for the A. Gary Anderson Center for Economic Research at Chapman University in Orange, Calif.
But how that translates into apparel and textile makers is another thing.
Even though the economy was on solid footing last year with the nation's gross domestic product rising an estimated 2.3 percent, several clothing manufacturers and retailers saw overwhelming challenges to their business.
A shift in the way clothes are sold and by whom continues to transform the industry, creating winners and losers. Particularly affected are brands and retailers that cater to the juniors market. They have seen the floor pulled out from under them as teens flock to the lowest-priced seller.
"Children's and teens' apparel did well last year, but the teen stores didn't," said Britt Beemer, a retail analyst and founder of America's Research Group, which polls 1,200 consumers a week to take the pulse of their retail-spending attitude. "Wal-mart and Target got 9 percent more teen shoppers than one year ago."
Juniors retailers such as Forever 21 and H&M have been expanding their stores. They offer merchandise at rock-bottom prices and churn out new styles faster than you can sew on two new buttons.
"For us it has been a good year, but it is tumultuous," said Ike Zekaria, vice president and co-owner of Los Angeles–based teen retailer Windsor Fashions Inc. "A lot of our competitors are going out of business."
Those competitors are Delia's, a New York–based juniors apparel retailer that announced at the end of last year it was filing for Chapter 11 bankruptcy protection and closing its 95 stores after being in business for 22 years.
The Wet Seal, a Southern California juniorswear store chain that has been on and off the financial ropes, said in January it would shutter 338 stores and lay off 3,650 employees. The chain still has 173 stores, based mostly in malls. Many speculate that the teen retailer will be headed for bankruptcy court soon if a buyer for the retailer isn't found soon.
To add to pricing challenges, apparel makers are seeing mid-tier retailers scooping up brand-name licenses or the names themselves and selling them exclusively at their stores. Traditional independent brand names that have been a staple in the stores are being booted out the door.
One Los Angeles company executive, who didn't want his name or company mentioned, said that for years he supplied Kohl's. But the Wisconsin-based retailer started stocking the Vera Wang, Rock & Republic and Jennifer Lopez brands. Three years ago he was cut out of the loop, costing him $24 million in sales.
Many apparel makers were working every angle to market their labels. Chaudry, a Los Angeles label started in 1976 by Krishan Chaudry, has seen its revenues increase 30 percent in the last year, but the company has taken to the social-media airwaves to get the word out about the line, known for its brightly colored bohemian prints and crochet details. It caters to the 30- to 55-year-old woman. "We are doing everything possible to reach the influencers and bloggers," said Ravi Bhushan, the company's sales director. "We are doing all the trade shows."
Recently, the brand added a new label called Chaudry Black, a line of hand-beaded dresses and tops selling at Anthropologie and Free People. Wholesale prices range from $99 to $169.
"It is challenging out there. You have to be innovative," Chaudry said. "If you have things that are different, it is very good."
Gas it up
This year, retailers and apparel makers have given the gift that keeps on giving. Gas prices have plummeted, now at a national six-year low. Who would have thought that the average price of gas across the nation would nosedive 35 percent in a year, dipping from $3.23 a gallon to around $2.11 a gallon. Gas prices are slightly higher in California.
That means instead of spending $58 to fill up a mid-size car, it now costs $38. Gas prices are expected to remain low through 2016. "Whenever gas prices go down, it is like a tax cut for consumers," Adibi said. "That extra money does two things. It reduces people's debt or increases their savings. Or it can be spent. In all likelihood, a good portion of it is going to be spent."
The downside is for oil-producing states and countries now seeing their oil revenues drop. In the United States, Texas is the country's No. 1 oil producer, followed by North Dakota and then California. So there could be some layoffs in the state's petroleum industry and declines in revenue for businesses and services that supply them.
It's off to work we go
Job creation in California has been more robust than in the rest of the country, offsetting the large number of jobs lost during the recession that started in 2008.
California's unemployment rate in November was 7.2 percent compared with 8.4 percent during the same month in 2013. The state's unemployment rate peaked in February 2010 at 12.4 percent.
But Los Angeles County is still behind in tackling its unemployment rate, which stands at 7.9 percent. That should change by mid-2015. "Los Angeles still has not recovered all the jobs it lost during the recession," said Robert Kleinhenz, chief economist at the Los Angeles County Economic Development Corp. "We are still very reliant on government jobs and jobs tied to the defense industry. Government jobs have been slow to come back. But by mid-2015, Los Angeles County should recover all the jobs it lost during the recession."
Los Angeles County's unemployment rate peaked at 13.3 percent in July 2010.
"Industries where gains have been more pronounced have been in healthcare, professional services and business services," Kleinhenz said. "Leisure and hospitality have been adding jobs over the past couple of years due to the growth in the tourism component of the local economy."
Jobs associated with the Port of Los Angeles and the Port of Long Beach should also be on the upswing because international trade is expected to rise, even though the ports have been plagued with congestion problems.
"Import volumes on the West Coast, despite all the problems there, were the highest since 2009," said Ben Hackett, founder of Hackett Associates, which tracks national port traffic for the National Retail Federation.
For the first 11 months of 2014, cargo volumes at the Port of Los Angeles were up 6.5 percent over the previous year while at the Port of Long Beach they rose 1.7 percent.
Jobs in California's apparel manufacturing sector continued to slide, dipping 4.1 percent in November compared with the previous year. Nationally, they declined 6.4 percent.