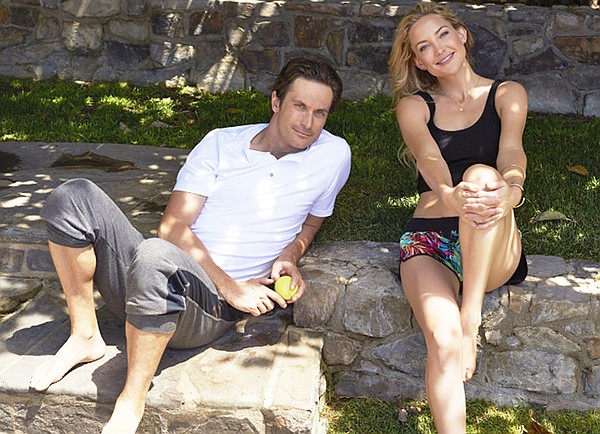 FABLETICS
Kate Hudson Pumps Up Collection With New Men's Line

Nearly two years ago, actress Kate Hudson introduced a line of athleticwear called Fabletics, sold only through an online membership and subscription service.
Now the daughter of Goldie Hawn has introduced a line of activewear for men available through the same service. Keeping it all in the family, her older brother, Oliver Hudson, is the official spokesman for the new line, called FL2.
"We designed FL2 with the modern man in mind," Kate Hudson said. "My brother, Oliver, was my go-to for style and function feedback. As an athlete and father of three, Oliver embodied the man we're designing for. It made perfect sense for him to be the face of the brand."
As with Fabletics, all items are priced under $100. The FL2 collection offers a number of items, ranging from a hooded vest with neon accents to slim-fit performance terry sweatpants with contrast details. There are combed cotton T-shirts as well as nylon/spandex pants, shorts and sweatpants.
Fabric used in the new line has four-way stretch as well as moisture-release technology. It also has protection against sun exposure and other elements while performance mesh allows for a ventilated workout. The collection can be for workouts but also can double as everyday wear too.
Fabletics, which is part of the JustFab group, including ShoeDazzle, is a membership service that costs $49.95 a month, which is applied to a purchase. To sign up, members have to complete a survey about their fashion preferences. At the beginning of the month, a personal stylist selects items for customers based on those preferences. Members may opt to skip a month without incurring a charge.
JustFab was co-founded in 2010 by Adam Goldenberg and Don Ressler and is headquartered in El Segundo, Calif. Fabletics was added three years later with a wide range of workout gear that includes tops, tanks, T-shirts, sports bras, hoodies, jackets, leggings, pants and shorts.
To check out the websites, go to www.fl2.com and www.fabletics.com.