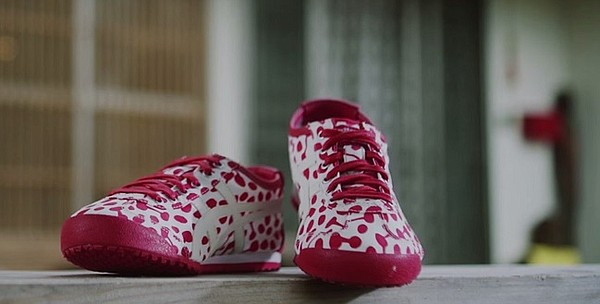 FOOTWEAR/TEXTILES COLLAB
Onitsuka Tiger + original Japanese textiles by Makumo

Onitsuka Tiger, the lifestyle brand owned by ASICS, struck a partnership with Japanese textile maker Makumo for a capsule collection of shoes for men and women featuring original Makumo prints.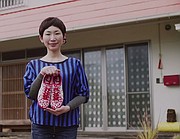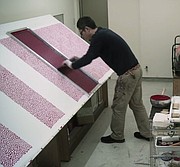 Textile designer Miki Fukuyama and her husband chef Tomo Araki run the Makumo business from their home in Itoshima, Japan. Fukuyama creates the designs, which are then handprinted by Araki on Japanese loomed canvases from Kurashiki. Onitsuka Tiger has released a video—the first in a series about the collaboration—featuring the couple working on the textile designs in their home.
The first shoe in the Onitsuka Tiger x Makumo capsule collection, the "Natto," arrives in stores on June 13 and will retail for $110. Each print has a story behind it and for the "Natto," the inspiration is a fermented bean, which "represents the idea that the power of fermentation is inspiring and transformational."

"We are very excited about our collaboration with Makumo, which is a first for the Onitsuka Tiger® brand," said Mike Jensen, director of lifestyle for ASICS America Corp., the Irvine, Calif.–based U.S. arm of the Japanese footwear athletic equipment maker. "Style and design are everything to our Onitsuka Tiger customer and we know they will appreciate Makumo's unique, beautifully handmade textiles. This is a true representation of Japanese craftsmanship, and there is nothing else like it available on the market."
The second style to be released will be the "Tora," which was hand printed at Bamba Dye House in Kyoto, Japan. "Tora" is the Japanese word for "tiger." The shoe will be available in July and will retail for $100. The pattern for the third style, the "Karamari," resembles cells and membranes "to show an environment full of life and energy with unique characters all connected." It will also bow in July and will retail for $110.
"I never imagined our textiles could be used to craft shoes, but when I held them in my hands I thought, 'Wow, it's amazing,'" Fukuyama said. "I was so impressed with the ability of the Onitsuka Tiger designer to select the perfect prints for the right silhouettes."
There will also be limited-edition handmade totes featuring all of the Makumo footwear patterns. It will be available this summer on OnitsukaTiger.com for $100.
Founded in 1949, Onitsuko Tiger is the forerunner of ASICS and was founded by Kihachiro Onitsuka "to promote youth health through sport.