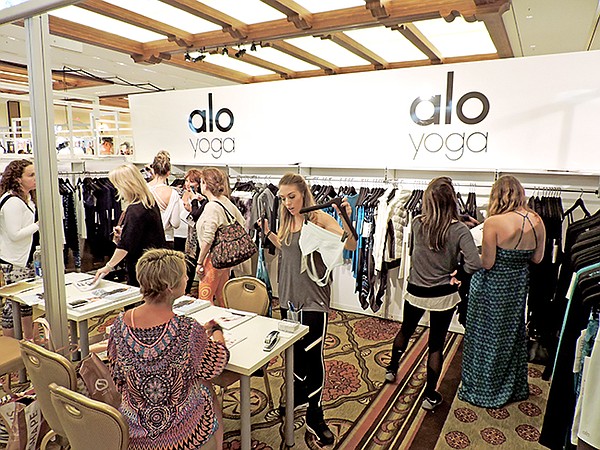 ALL ACTIVE
Active Collective in Huntington Beach, Calif.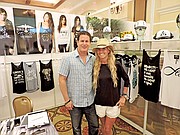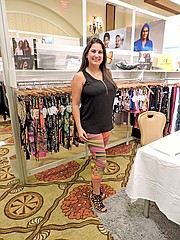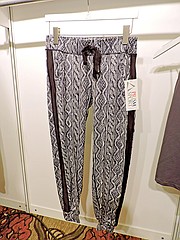 Buyers from department stores, resorts, boutique stores and yoga studios turned out early for the June 23–24 run of Active Collective at the Hyatt Regency Huntington Beach Resort in Huntington Beach, Calif.
After a January launch alongside its sister show, Swim Collective, the activewear show debuted its first solo run with 140 booths showcasing fitness and athleisure brands such as Beyond Yoga, BG by Body Glove, Under Armour and Trina Turk Recreation.
"The show was a huge success for our first stand-alone Active Collective," said Executive Show Director Shannon Leggett. "It's really important for our exhibitors' brand identity to have their own trade show. Our focus is to bring buyers and brands together whose businesses are defined by the fitness/fashion movement. These brands amplify our motto, 'Where Fitness Meets Fashion.' The main goal is to promote the active fashion/fitness category to the greater apparel market."
Leggett said he plans to continue to host Active Collective separately from Swim Collective for the time being. "While it's a two-day show, we'll keep them separate," he said.
Retailers shopping the show included Neiman Marcus, Nordstrom, Zappos, Bergdorf Goodman, Revolve, Carbon 38, Bandier, Planet Blue, Scoop NYC, Ron Robertson, Anthropologie, Urban Outfitters, Free People, Kitson, Amazon.com, MGM, Diane's Swimwear, luxury hotel buying groups and yoga studios—as well as buyers from across the U.S. in addition to Japan, Australia, Mexico and Europe.
The exhibitor lineup included several companies, such as Cypress, Calif.–based Manhattan Beachwear, which also shows at Swim Collective.
Every seat at Manhattan Beachwear's booth at Active Collective was full as buyers reviewed the latest collection from Trina Turk Recreation, Pink Lotus and Green Dragon. Trina Turk Recreation is the activewear collection designer Trina Turk launched in 2013. Yogawear line Pink Lotus and resort collection Green Dragon joined the Manhattan Beachwear lineup last year, when the company acquired CMK Manufacturing.
Ron Razzano, vice president of sales for Manhattan Beachwear, said he and his team had lined up appointments with big accounts such as Zappos and Nordstrom but were surprised by the additional retail traffic at the show.
"We had 11 stop-bys before noon," he said on the opening day of the show.
The new trade show also drew several new exhibitors, including Los Angeles–based Hard Tail, which showcased its casualwear collection in a 20-by-30-foot booth at the front of the show.
Early in the day on June 23, the company met with East Coast retailers as well as buyers from Mexico, said Cami Cantrell, who was at the booth with her father, founder Dick Cantrell.
Cami Cantrell said friends at swim line Vitamin A had recommended they exhibit at Active Collective.
It was a similar story for Joy Clancy and Sheena Mahtani, who showed Shape, a new activewear line launched in partnership with Shape magazine. A friend recommended they debut the New York–based line at Active Collective.
Shape is already carried at Dick's Sporting Goods, and a co-branded collection is launching with the fitness chain Equinox.
Clancy described the new line as a "hybrid of performance but also street and leisure."
Caitriona Taylor, vice president of sales for the new collection Crane & Lion, also heard about the show from other brands. The Boston-based collection launched in November with an emphasis on fashion, fitness and function. The collection has been picked up by fitness and resort stores, a lot of yoga studios and spin studios," specialty stores, and e-commerce sites, Taylor said.
Produced in Taiwan and China, Crane & Lion recently added a Peruvian-made collection of cotton pieces to the line.
Yogasmoga, the fast-growing yoga brand made in the U.S. from U.S.-made fabrics, recently kicked off a 10-store retail rollout in California with the opening of its second store in LA's upscale Brentwood neighborhood.
The company's brand-building strategy also includes a wholesale rollout.
"We just launched with Yogaworks as the first West Coast partner last week," said Gwen Burnett, Yogasmoga's wholesale account manager.
Vancouver-based Public Myth has been building its direct-to-consumer business but discovered a strong following from West Coast consumers.
"We sell mostly online, and most orders come from California," said Kerry Pollock, the company's creative director, adding that the company decided to show at Active Collective to get exposure with local California retailers, as well.
Produced in Vancouver and made from Supplex and a bamboo/cotton blend, Public Myth pieces are packed with details such as the raw edges on their cargo pant/leggings, said Danielle Wyllie, operations manager for the line.
Miami Beach, Fla.–based Equilibrium Activewear has been producing its collection for nearly 20 years, but this was the first time showing at a trade show, said company representative Tatyane Martins, whose mother designs the collection, which is made in the company's factories in Brazil.
"Our motto is activewear beyond the gym. You can throw on some heels and go out to dinner," said Martins, who was wearing a pair of the line's brightly patterned leggings with laser-cut details.
The collection sells in small boutiques, yoga studios, spas, gyms and pro shops around the world, including locations in Canada, Russia and Australia, Martins said. But now the company wants to grow its U.S. business.
Until now, the company had been building its business through word of mouth and participating in events such as the Idea World Fitness Convention, set for July 15–19 in Los Angeles.
"We do a lot of fitness events," Martins said, adding that she had met a lot of new retailers at Active Collective. "It's getting the name out."
Rande Cohen, owner of the Rande Cohen Showroom in The New Mart in Los Angeles, was at Active Collective with two of her lines, Miami-based Peace Love World, and a new line for her showroom, New York–based Prism Sport. The print-driven Prism Sport collection included novel details such as the leggings constructed without a center seam and the track jacket printed to look like a distressed leather jacket.
Los Angeles–based Spirit Activewear was showing its jerseys with printed textiles across the back yoke as well as a sampling of its new athleisure collection, which includes mesh tops and a pullover sleeveless hoodie.
"It's a great venue," said company rep Michele Sacks. "It's a nice group of buyers—a little more East Coast than I expected."
Jen and Stephen Kelly were showing Bird & Vine, a nearly 4-year-old graphic knits collection based in Chatsworth, Calif. The husband-and-wife team previously designed a collection called Anhk Royalty, which they ran for 10 years.
"I'm very happy," Jen Kelly said. "I opened some new accounts, reopened old accounts and found a lot of good private-label possibilities."