NEW LINES
Showroom Profile: Citizens of Humanity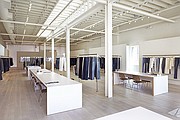 Los Angeles–based premium-denim lifestyle line Citizens of Humanity recently unveiled a dramatic new look for its 4,000-square-foot West Coast showroom at the Lady Liberty building in downtown Los Angeles.
Working with Montalba Architects, Citizens transformed the penthouse loft space into a modern and minimalist gallery that provides a clean canvas to showcase the company's collections, including Citizens of Humanity, AGOLDE, Goldsign,Fabric Brand and Getting Back to Square One.
Montalba Architects have created showroom and retail spaces for fashion labels such as Isabel Marant and The Row.
A wall of windows and a 40-foot skylight add to the new, bright aesthetic of the showroom, which features a new European oak floor and floating "canvas" walls that are finished with stainless-steel fixtures. The architects preserved some of the original historical details of the space, such as the wood ceiling and brick wall, but refinished and painted them to add to the showroom's gallery-like setting.
Freestanding brushed-stainless-steel racks in the center of the room can be moved to create one large event space or several smaller workstations. A partition wall with embedded screens separates the offices from the showroom.
According to the company, the new showroom design will serve as a model for other Citizens of Humanity showrooms around the world, which will be remodeled over the next two years.
Founded in 2003 by Jerome Dahan, Citizens of Humanity blends denim-manufacturing heritage with a focus on fit, fabric and wash produced at its own facility in Los Angeles.