MANUFACTURING
The Ins and Outs of Brand Building With Licensing, Investment and Social Media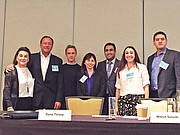 Nearly 200 apparel-industry executives turned out to discuss brand-building strategies that ranged from social-media practices and licensing opportunities to gauging when to seek outside investment.
Titled "Take Your Brand to the Next Level," the Oct. 21 event at the Omni Los Angeles Hotel in downtown Los Angeles was organized by CIT and the California Fashion Association.
Mitchell Cohen, Western regional manager for CIT Commercial Services, and Ilse Metchek, president of the California Fashion Association, served as moderators of the panel, which included Jessica Blue, vice president of UBM Advanstar's Licensing Expo; Marvin Padilla, managing director at Intrepid Investment Bankers LLC; Dana Telsey, chief executive officer and chief research officer of Telsey Advisory Group; Mitesh Solanki, principal partner with Creative Intellects; and Josh LeVine, chief executive officer of Frame Denim.
Metchek led a discussion of the history of the apparel industry from 1994—the year before the CFA was founded and when production was largely domestic—to the advent of the North American Free Trade Agreement, when quotas ended and imports surged, to today, with Internet sales of apparel amounting to $75 billion annually.
"In 2015, we're talking about branding and licensing," Metchek said, ticking off a list of labels—including Juicy Couture,Tommy Hilfiger, Liz Claiborne, Rock & Republic, Chorus Line, St. Tropez and Laundry—that were acquired. In some cases, the brands have become licensed labels run by retailers as exclusive in-house brands.
"Do we care about a brand's sustainability or do you just want to sell it?" Metchek asked.
Holiday forecast
Telsey took a look at the holiday retail season and made a few predictions.
"It's been a very tough year," she said. "We had the West Coast port delays creating havoc with what sold at full price. And then we had the [late] Labor Day on Sept. 8, which wreaked havoc with the selling season."
Telsey forecast a continuation of the athleisure trend, noting that in the past "there used to be four reasons for women to buy: work, gym, weekend and parties. Today, work, weekend and gym is all integrated."
This holiday season, she also sees denim beginning to rebound, and there is a strong interest in jewelry as well as cosmetics.
Telsey recommended the audience keep an eye on Irish fast-fashion retailer Primark, which recently opened a store in Boston and has an aggressive rollout plan for the United States. "If you have seen the new Primark in Boston, you've never seen prices like these," she said, explaining that jeans are priced at $10 and T-shirts are selling for $3.50.
Some new shopping trends Tesley sees for holiday 2015 include customers buying more online and picking up in stores. She also believes there will be an increase in mobile shopping and consumers requesting to ship from stores.
"We're going to see a bigger mobile season than ever before," she said. "It gives consumers choices of when to buy and spend."
Telsey also pointed to social shopping giving the customer the opportunity to buy from their Instagram and Twitter feeds. It's "the ability to buy what you want when you see it," she said.
Social strategy
Throughout the event, Cohen polled the audience to determine its makeup and interests. Most in the audience identified themselves as either professional-services executives or branded manufacturers.
Some 57 percent said they had explored an acquisition or sale. And 67 percent said their marketing plans include social media. Furthermore, 65 percent of the crowd said social or digital media and tech are the best ways to grow a brand.
Solanki said the "never-off syndrome" of constant information has created a "need to cut through the clutter." He recommended companies create an email marketing program that allows people to subscribe to a specific interest rather than a general list.
For Frame Denim, "social and digital is the way to communicate with our customers," LeVine said, adding that the company can create a new design, cut it, take a photo, put it on Instagram "and take pre-orders."
Measuring the return on investment for social media can be complicated. Solanki recommended brands look at influence and monetary gain separately. He suggested companies set benchmarking goals for a campaign and then look at the "lift"' provided by social-media efforts.
Social media has also changed the licensing industry, Blue said, pointing to the rise of Internet properties such as Grumpy Cat, which has become a licensed brand. "Digital media is really rocking our world right now," she said. "People can build a fan base. There are more opportunities [for licensing] than ever before."
Blue said negotiating the licensing agreement is key. "The licensor wants the highest royalty rate, and the licensee wants to pay as little as possible. If the licensing agreement isn't right, the whole thing could go away. At the end of the day, the licensor just wants to protect the brand—and their other relationships [with retailers]."
LIMA, the Licensing Industry Merchandisers' Association, can help with licensing agreement templates and legal advice. Attending theLicensing Expo is also a good idea, Blue said. "It's such a competitive market right now," she noted. "We have 500 booths showing 5,000 brands and 16,000 attendees. Luckily, it works more than it doesn't."
Cohen advised taking a cautious approach when negotiating a licensing agreement. "As two partners come together, everyone's really excited about getting their documents signed. But take a step back first," he said.
Money partners
When the conversation turned to strategies for seeking outside investment, Padilla recommended looking beyond the financial commitment.
"If you find the right partner, not just money, they have to be able to experience and guide," he said.
LeVine agreed, saying, "A good partner versus a bad partner makes all the difference."
Last year, Frame Denim received investment from Andrew Rosen and John Howard. (Rosen, chief executive officer of Theory, and Howard have invested in several fashion brands, including Proenza Schouler, Rag & Bone and Alice + Olivia.) "They're in sort of a godfather role," LeVine said. "You have all this access to guys who have been there and done it before."
Padilla recommended that companies thinking about seeking outside investment "start planning early. Even if it's early in the lifecycle."
"The most important thing is to run a thorough process as you meet different investors," he said. "It's kind of like dating and choosing a wife. You want to make sure you sample the universe."
Q&A and made in LA
The panel fielded several questions from the audience regarding finding management candidates, investment in technology and protecting a brand's intellectual property internationally.
One question concerned whether domestic-made fashion should be branded as made in U.S.A., made in California or made in LA.
"I'd go with made in LA," LeVine said. "To me, it really resonates."
Made in LA is especially effective with millennial consumers, LeVine said. "But at the end of the day, what they're looking for is authenticity. We have to tell a true story of who we are; otherwise they'll call bulls--t."
Blue agreed, saying, "Millennials live in a bespoke world. They want something tailored to them."
CIT and the CFA are currently working on a new Los Angeles–area Fashion Industry Profile, which will be released in February and include updated information since the last Fashion Industry Profile was released in 2011.