RETAILING
Quiksilver Files Chapter 11 Bankruptcy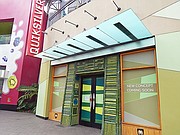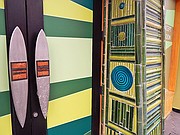 Expect to see a lot of Quiksilver pop-up stores and liquidation sales in the coming months now that the mammoth retailer has filed for Chapter 11 bankruptcy protection.
The California surf and skateboard apparel retailer plans to shutter more than 30 locations and maybe more now that it can cancel its leases due to its financial reorganization.
Even ahead of its Sept. 9 bankruptcy filing, Quiksilver started setting up 24 pop-up stores in July to get rid of merchandise that wasn't selling well. The retailer has plans for at least six more pop-up stores, according to court documents filed in U.S. Bankruptcy Court in Delaware.
Hilco Merchant Resources and Gordon Brothers Retail Partners are in charge of the liquidation proceedings.
Retail outposts listed for closure include the stores at South Coast Plaza in Costa Mesa, Calif.; Fashion Island in Newport Beach, Calif.; University CityWalk in Los Angeles; and the Irvine Spectrum in Irvine, Calif., as well as stores in California cities such as Glendale, Concord, Petaluma, San Bruno, Tracy, Redding, San Ramon and San Jose. More stores will be closed in states such as Virginia, New Jersey, Illinois, Pennsylvania and North Carolina.
Roth Capital analyst Dave King in a report noted that Quiksilver had been trying to attract buyers for a management-led buyout outside of bankruptcy but that approach was hampered by the company's high-cost leases.
Court papers show that the maker of brands such as Quiksilver, Roxy and DC Shoes had total debt of $826 million and $337 million in assets. In the filing, Quiksilver said about $500 million of its debt would be cut under the restructuring plan.
The bankruptcy filing does not affect Quiksilver operations in Asia or Europe.
Senior lender Oaktree Capital Management, which owns 73 percent of the company's senior debt, will convert that to equity and take majority ownership of the company, based in Huntington Beach, Calif.
Then Quiksilver will seek to borrow $175 million from Oaktree's affiliates. Oaktree Capital Management is a Los Angeles company that specializes in turning around financially troubled companies.
Quiksilver has gone through a revolving door of executives lately trying to patch up its financial problems.
Chief Executive Pierre Agnes, who months ago replaced former CEO Andy Mooney, said the bankruptcy and financing from Oaktree will allow the company to "satisfy our ongoing obligations to customers, vendors and employees" and "re-establish Quiksilver as the leader in the action-sports industry."
The company, which has about 680 stores that sell its beach and skateboard-oriented clothes and shoes, saw its sales last year drop 13 percent, which contributed to its net loss of $309.4 million. Last year, Quiksilver sold its licensed apparel subsidiary Hawk Designs Inc. for $19 million.
As the financial situation got worse, cofounder Bob McKnight, who led the company for many years, returned to Quiksilver as its chairman.
While many people believed that Quiksilver's merchandise and company plans didn't keep up with changing consumer tastes, others cited past financial mismanagement decisions made when the U.S. economy was roaring, saddling the company with high debt that continued to plague it for years.
Everyone talks of Quiksilver's disastrous purchase of Rossignol, a French company that makes skis, snowboards and other goods related to snow sports.
Quiksilver, then headed by McKnight as CEO and Bernard Mariette as president, bought Rossignol in 2005 for $320 million. Three years later, as the economy was starting its downward dive, Quiksilver sold Rossignol for $147 million.
"The Rossignol purchase really was the trigger that put them under," said Greg Weisman, an attorney with Ritholz Levy Sanders Chidekel & Fields, who works with a number of Orange County surfwear and skateboard companies. "At that point, when things went south with the ski maker, the plug was effectively removed from the drain."
One retail expert noted that the loss taken from the Rossignol sale saddled the company with so much debt that the company was barely making enough money to pay the interest on its debt. "The main issue was getting rid of the debt that they couldn't service," he said.
Another misstep cited by experts was taking the company public in 1986. It was the first Orange County surfwear brand to embrace Wall Street as a vehicle to expand, but that also affected its cool, hip image as a kind of counterculture surf brand that turns its nose up at the establishment.
"Once you are on that public company treadmill, a company that was seen as a counterculture alternative to the mainstream apparel brands is forced to grow and be beholden to stockholders," Weisman said. "In a way, that belied its true DNA."
Being on that treadmill had the company expanding its business outside the apparel industry. In early 2001, it formed Quiksilver Travel, organizing trips for surfers to resort destinations, and it also formed Quiksilver Entertainment to produce TV shows, movies and events targeted to the youth market.
Then in the years before the economic recession, the company started opening a slew of stores as it competed with brands such as Billabong , Pacific Sunwear of California and Volcom for retail space. "You had a retail arms race going on with wholesale labels opening store after store to control consumer touch points to their goods," Weisman said.
Now, the challenge will be to keep the brand vibrant. "They have good financing in place from Oaktree and they will convert that into equity," said one retail expert, who asked not to be identified. "Now we will see what changes they make."