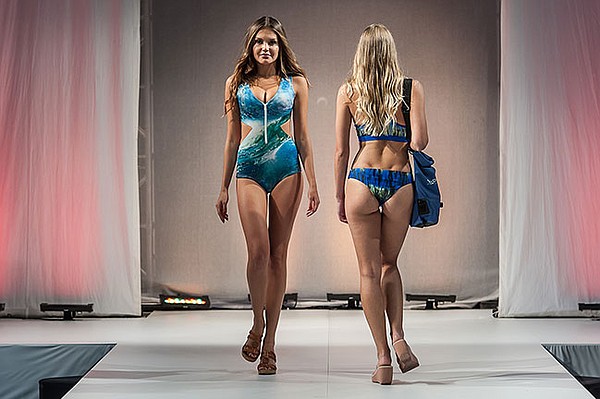 SURF EXPO
Busy Booths and New Developments at Surf Expo
ORLANDO, FLA.—The September run of the Surf Expo trade show has always been smaller than the show's January edition, but for exhibitors and attendees of the recent Sept. 10–12 show, the fall edition is a good indicator of what's to come.
Surf Expo, which celebrates its 40th anniversary next year, typically has a higher focus on hard goods—such as surfboards, wakeboards, stand-up paddleboards (SUPs), and related gear and accessories—at the September show. This year, a little more than half of the September show's 1,041 exhibitors were showing "soft goods." The show is conveniently divided into categories, and prominent signage makes it easy to pinpoint apparel resources in areas such as "swim," "surf" and "boutique."
According to Show Director Roy Turner, pre-registration was 15 percent higher than last year. (Final attendance statistics were not available at press time.) He noted that interest in newer activities such as diving, free-diving, SUP, wakeboarding and wind-driven sports has contributed to growth in apparel offerings. That said, the show felt uncrowded and casual. On the final day of the show, there often seemed to be more going on inside booths than in the aisles.
At larger booths for brands such as Quiksilver, O'Neill and Body Glove, reps met with accounts in back-to-back appointments—22 appointments per day, according to O'Neill reps. And while not jam-packed, the aisles featured attendees gawking at a classic "woody" station wagon, catching an impromptu ukulele-band performance or checking out riders on radio-equipped hoverboards (on wheels). In addition, twice-daily fashion shows as well as buyer seminars were held inside the hall, with open-air seating adjacent to a long runway (flanked with large screens that display manufacturer information during shows).
Among the largest exhibitors was Quiksilver and its Roxy and DC Shoes brands. The Costa Mesa, Calif.–based company was exhibiting just a few days after filing for bankruptcy protection. While the company took immediate steps to keep reps and retailers in the loop via emails and calls, Roxy National Sales Manager Jaci Schroeder said Surf Expo presented a perfect opportunity to reinforce key relationships face-to-face.
"[Chief Executive Officer] Bob McKnight actually flew out and met with staffers in person on Wednesday," Schroeder said. "He answered all their questions. It was very personal for him."
The message from McKnight and Quiksilver U.S. President Greg Healy was about getting back to basics. "Brands are our focus going forward, so [here] we're making sure they resonate with the customer," Schroeder said.
The representatives at Irvine, Calif.–based O'Neill met with a range of existing accounts—including department-store chain Dillard's as well as smaller boutiques and core shops—and connected with prospective new stores in the Caribbean. Buyers got a preview of O'Neill's Summer 2016 collaboration with designer Cynthia Vincent, whose tribal and floral prints are featured on swim and activewear. The Vincent partnership is O'Neill's second, following on the heels of its Fall collaboration with designer Anna Sui. O'Neill marketing staffer Shelby Froehlich reported positive reviews from buyers, especially for Vincent's bold neoprene floral wet-suit pieces—fitting, she noted, given the brand's origins as a wet-suit manufacturer.
High-tech and key trends
Throughout the aisles, technical influences were evident in both style and fabrication, with companies showing neoprene fabrics, rash guards, lightweight-yet-forgiving pieces and styles with more coverage.
Minneapolis-based Coolibar, manufacturer of apparel with built-in sun protection, had an excellent show, according to National Sales Manager Jennifer Miller. "It's a growing category as more people are interested in sun protection." The brand previewed a new Merino wool collection for Fall, featuring super-soft, washer/dryer-safe pieces that the company says appeals to both resort and fitness markets.
For savvy trendspotters, the September show offered plenty of what Surf Expo is known for—up-and-coming companies with the creative firepower to make a significant impact. Tennessee-based Sacer and Savive, a line of hand-stenciled "wearable art" with an edgy appeal, invited excited buyers to make their own shirts. Two-year-old New York–based Bogart and Tracy showed stretch-woven boardshorts in fun iterations of preppy madras and plaids/stripes (as well as samples from a yet-to-be launched women's activewear line).
Another standout was high-end swimwear line, Pacifique, the brainchild of longtime friends Karissa Hochberg and Melissa Ninen, two travel-savvy 29-year-olds with day jobs. (Hochberg is an office manager in Santa Barbara, Calif., and Ninen is a film/TV stylist and brand consultant who splits her time between Los Angeles and Brooklyn, N.Y.) Having gone from idea to finished pieces in just eight months, the founders introduced their "Here Comes the Sun" collection for Summer 2016 at what they say is the perfect venue. Surf Expo was their first-ever trade show.
"We've gotten a ton of leads; we're feeling extremely confident," Ninen said. The two designed the line for women like themselves, who are influenced by street style yet are fashion-minded and translated it for the beach. Retail price points range from $100 to $110 for separates and $200 to $210 for full suits.
With a broad mix of established and new brands, buyers had plenty of ground to cover to stock up for the busy Spring and Summer seasons. Still, Raina Reid, buyer for Freeride Surf and Skate in Gainesville, Fla., opted to meet only with her existing brands.
"It's a lot easier to make a decision when you have a good relationship with your rep," she said.
Mike and Connie Sams, who opened River Dog Paddle Co. in Rome, Ga., in November, found plenty of new resources to beef up their apparel offerings.
"I found casual-active [pieces] that cross over—stuff that's cute but covers. And jewelry," Connie Sams said. "That's the beauty of this show."