TECHNOLOGY
Terrot's New Corizon Machine Combines Spinning and Knitting to Save Time, Money and Energy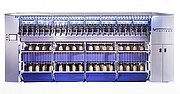 Members of the U.S. apparel industry turned out recently at a demonstration of a new machine that combines the functions of a spinning machine and a knitting machine.
German knitting-machine manufacturer Terrot spent seven years developing the Corizon machine, which produces lightweight fabrics with a soft hand and an opaque look. Representatives from companies such as Under Armour, Contempora Fabrics and Lenzing were on hand July 18–22 for a series of demonstrations and focus groups held at North Carolina State University, where Corizon machines have been installed.
The key benefits of the Corizon machine is time and cost savings, explained Peter Schuring, managing director of Terrot GmbH.
Rather than spin yarn on a separate rotor or ring spinning machine, the Corizon machine starts with a bundle of fiber, or roving. The Corizon machine creates a yarn with a different structure than yarns made using ring or rotor spinning machines.
"Here you have parallel fibers surrounding a very thin core yarn," Schuring said.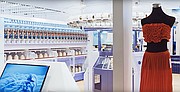 The resulting yarn is soft, smooth, lightweight and opaque because the yarn structure is less twisted than a ring-spun yarn and more even than a rotor-spun yarn.
Combining spinning and knitting also helps accelerate the research and development process, Schuring said.
"Normally [when] you develop a fabric, you have to buy the yarn, you have to load it on the machine, you have to do your experiment and, when you want to change something, you would have to buy new yarn and go through the process again," he said. "With Corizon, you can do it within a day—or maybe an hour depending on what you're doing. You can change the yarn count on the machine on the run. You can go from yarn counts from 30 to 60 with one push of a button. As a research machine it's also very good because you can do so many things in such a short period of time."
In addition to saving time, the machine uses less energy than running separate spinning and knitting functions. It requires less space than a ring-spinning machine and it requires fewer operators to run.
"In adding up all the cost elements—and there are many—you end up with a very significant cost saving when you're using Corizon," Schuring said.
Companies can use "virtually any fiber" in the machine, Schuring said. For the recent demonstration, Terrot used MicroModal for the core yarn.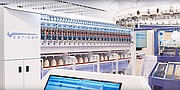 Tricia Carey, director of business development for Lenzing, the Austrian maker of Tencel and Lenzing Modal fibers, was not on hand to see the demonstrations, but she has seen fabrics made on the Corizon machine.
"The swatches that I saw are gorgeous. There's a certain refined quality to them," she said. "The hand on the MicroModal is beautiful and you get that slight luster. There was no compromise at all in the hand or quality. For our products, it's really about the color, the luster and the hand—and you can achieve the finer weights."
In addition to MicroModal, Carey said testing has begun on Modal and Tencel as well.
There are so many steps in the apparel-industry supply chain that any improvement in speed-to-market is a benefit to the industry, Carey said.
"For Lenzing, we're always looking for new technology and how it impacts using our fibers," she said, adding that she appreciated how Terrot opted to introduce the new machine by inviting the brands to test the Corizon machine at N.C. State. "When you bring the partners together and link the supply chain—fiber, yarn, equipment, fabric and you get the brands—it makes it all happen so much faster."
Carey said she also was pleased that Terrot chose to host the demonstrations in the U.S.
"I'm glad that was done on this side of the world," she said. "It provides an opportunity for keeping manufacturing and innovation here [and] it allows us to do some testing as well."
The Corizon machines are made in Germany and will be priced at $250,000, a price that Terrot estimates will amortize in about three years once a company realizes the cost and time savings.
"We are very much at the initial stage of introducing Corizon to the market," Schuring said. "We want the market and our potential customers to be familiar with the product, what they can do with it."
All the companies that attended Terrot's demonstration will be given an opportunity to test out the Corizon machines at N.C. State.
"We have invited them to do the trials at the university to become familiar with Corizon," Schuring said, adding that some companies that couldn't attend the demonstration have already booked appointments to test the machines later this summer.
"They can do their trials at the university with the assistance of people from Terrot or the university," he said.
Valerie B. Cooper, president of Heart Hunters Consulting, is coordinating appointments for testing the Corizon machines at N.C. State.
"They'll contact me and give me their wish list of what they will be doing," she said.
"They will work with the university and also they will have complete access to the Terrot research team."
By setting up testing at N.C. State, Terrot has created a "no-pressure, no-competition environment for the brands and mills to work with the university and try different concepts and put this machine through its paces," Cooper said. "Everybody who's seen it says that it's a game changer."