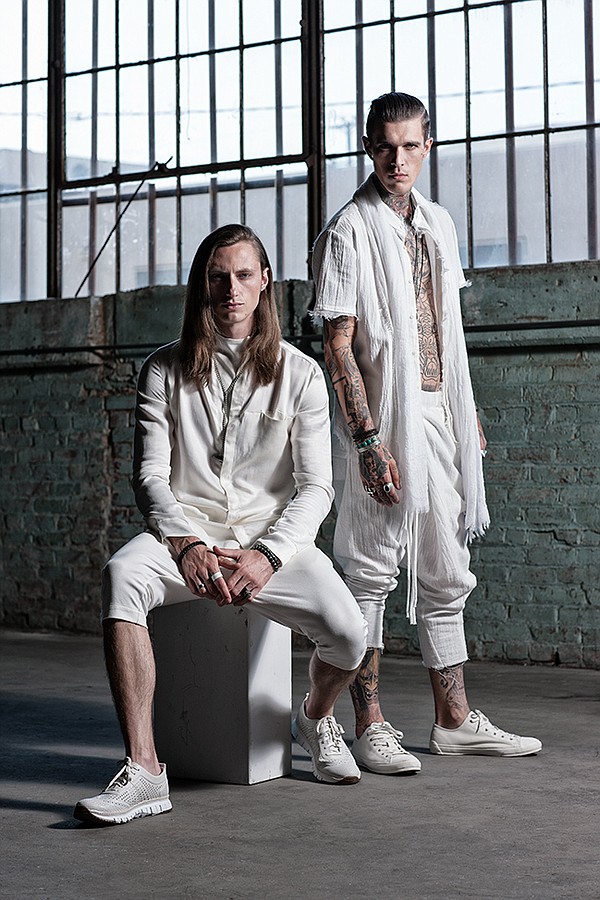 EDGY AND ELEGANT
Departed: Edgy and Elegant Menswear
Departed is bringing a sexy sophistication to menswear—with an edge. The LA-based collection, which launched for Fall/Winter 2015, was created for fashionable men with a unique sense of self-expression. "I really wanted to make a line for men that is exotic. It's cool, it's dressy and sexy. And it's a little bit away from all the trends that everyone is following right now," explained Creative Director Alexis Rosario. "It has its own personality. It's a brand for those who are different—for artsy people, for people with personality and character."
Departed's photo shoots feature models that are artsy, edgy and covered in tattoos. It's that individual sense of style that has already appealed to celebs such as Seal, Alan Cumming and Justin Furstenfeld, lead singer of Blue October. The directional brand has also been picked up by high-end stores such as Politix in Los Angeles.
Departed is an evolution of Rosario's past experience. The Lima, Peru–born creative director has a background in architecture and previously worked in advertising and graphic design. He got his start in fashion by creating graphics and embellishments for menswear brands such as Monarchy in the mid-2000s.
Made in Los Angeles, Departed is a creative exploration of Old and New World with clean modern lines. Inspired by vintage daguerreotype images, Rosario channeled the classical, formal look of people depicted in the black-and-white photographs. Elegant yet edgy, the collection has a bold attitude.
The debut capsule collection took on a sophisticated look with structured pieces including blazers, equestrian-style pants and military looks. Utilizing the vintage, stylized photo process as inspiration, the palette incorporated dark, rich colors and distressed details.
The S/S '17 collection builds on the look, featuring a lighter palette and fabrics such as canvas, twill, gabardine, wool and Pima cotton. Key silhouettes include blazers, button-down shirts and printed graphic T-shirts. Rosario has also added more detailed pieces including heavy leather moto jackets covered in studs and utility pants and shorts featuring '80s-inspired Velcro, hardware and matching zippers.
Wholesale prices range from $13.50 for 100 percent Pima cotton graphic tees to $425 for the studded moto jacket.
For more information, call (818) 933-4000.