TRADE SHOWS
Bright Lights and Music at WWDMAGIC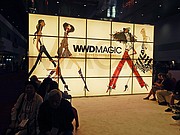 The energy was high at the WWDMAGIC show held Feb. 16–18 in the Central Hall of the Las Vegas Convention Center.
The expansive space was filled with styles for teenagers and young contemporary customers who are on the cutting edge of fashion.
With a youthful vision in mind, the booths at WWDMAGIC were brightly decorated and buzzing with music spun by various disc jockeys. Buyers hauling wheeled briefcases and suitcases click-clacked down the white-carpeted aisles.
Many booths had bowls filled to the brim with chocolate Hershey Kisses and various snacks to attract wandering buyers.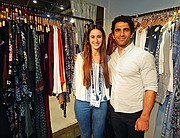 Retailers were on the prowl for boho looks, lace details and a sense of uniqueness. Susan Small, whose Multiplicity store is in Katy, Texas, outside of Houston, said business has been challenging this year because of the drop in the oil industry. She was looking for something fun but stylish and casual that didn't cost too much.
While business is challenging in Houston, it was a different story in Austin, Texas, where the economy is going strong due to the presence of the University of Texas and the various music festivals, including the nationally famous South by Southwest.
Shelley Meyer, who owns the Austin Rocks store, said her business was up 25 percent this year over last year. Most of her customers are tourists who attend the various festivals, and they are in the market for boho looks, vintage-styled apparel and anything with an indie vibe.
As a twice-a-year attendee of WWDMAGIC, Meyer walks around for inspiration. "I am looking for one or two brands that do the same thing as others but exceptionally well," she said.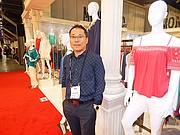 Retailers in the market for boho were visiting Omar Dittu, chief executive of the young contemporary label Patrons of Peace in Los Angeles. He was having a steady day of business on the first day of WWDMAGIC. His booth was filled with flowy tops, maxi dresses and boho looks that appealed to buyers looking for a '70s vibe.
The 3-year-old young contemporary brand is carried at Tilly's, Dillard's and Urban Outfitters. "We have been writing a lot of business for 4/30 shipping," Dittu said.
Bob Chun, vice president of Monoreno, said the Los Angeles juniors company has been attending the WWDMAGIC show for 10 years. He noticed that retailers are still buying closer to the season and being cautious. "This show I feel has more people, but they are not really writing," he said. "Before, people wrote big orders. Now they are more cautious to write an order."
Because Monoreno manufactures in China, the company is keeping more stock on hand to fill the demand for Immediates.
Chun said retailers were looking for styles that are cheap but look pricey.
Moshe Tsabag, president of Velvet Heart, a contemporary and misses line based in Los Angeles, and Free Heart, a younger, hipper version of Velvet Heart, opened his booth at 9 a.m. the first day and said it had been a constant flow of traffic. "It seems there is confidence out there," he said in between tallying up orders. "People are filling up on Summer orders and securing delivery for Fall merchandise."