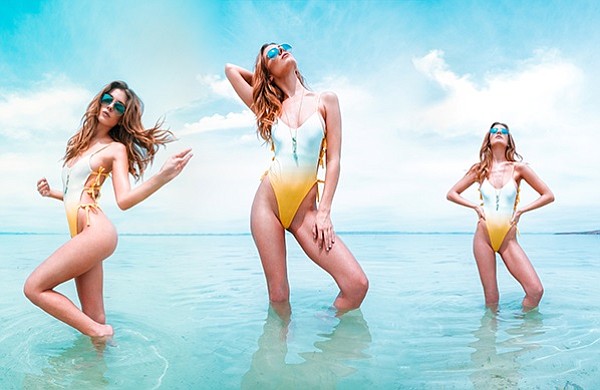 TRENDS
Swim Trends: The Beach Scene—Cruise 2017
Swimwear designers are turning up the heat as they head to Miami to debut Cruise '17. Fashion and activewear-inspired silhouettes that transition from beach to street continue to influence the market. Think festival chic, beach-to-boudoir, and sports-luxe swimwear and cover-ups that can be worn year-round. Trends for Cruise '17 range from high-necks to crochet treatments, off-the-shoulder tops, flirty ruffles, rash guards, handcrafted details, tropical prints, and high-cut legs a la the '80s. Envision the yogi/surfer girl, romantic bohemian, island traveler and the gypset a la '70s Marrakesh as muses. Here is a look at key trends of the season.
High-Cut Legs
"Raising leg lines in bottoms creating a legs-for-days look [is a key trend]," said L*Space Chief Creative Officer Monica Wise. "We got a lot of inspiration from the late '80s/early '90s from prints to style lines. We just love it all," she added. Vitamin A by Amahlia Stevens' collection takes inspiration from the iconic French cuts of the '80s and '90s, which she modernized for today's woman. "I am loving the resurgence of the sexy one-piece, with higher cuts that lengthen and flatter the legs," designer Amahlia Stevens said. "Teeny bikinis are eternally cool and ideal for long days spent in the sun—also with higher-cut bottoms and simple triangle tops," she added.
Magical Marrakesh
Marrakesh serves as inspiration for several brands this season, including Jantzen and BLEU | Rod Beattie. "Greece and Morocco provide inspiration for prints and patterns," said Creative Director and designer Rod Beattie, who added that blue tones are particularly strong this season. "The world is so global today, so I reflected on some of my past travels and adventures around the world to Greece and Morocco as well as Mexico, which I have somewhat of a love affair with spiritually and creatively," he added.
Beach to Street
Multifunctional swimwear and cover-ups will go from the beach to the street this season. "I think customers and designers alike [are] wanting to elevate swimwear more toward fashion and functionality," said Amaiò Swim designer Samantha Khoury, who added that creating statement pieces with classic silhouettes that easily transition from beachwear attire to streetwear is most important. Revel Rey Swim designer/owner Audrey Swanson is also seeing swimwear become more versatile going forward. "Swimwear is making an exciting transition from a typical bikini into a wearable fashion that is more versatile," Swanson said. "I think you will see these trends in one-pieces that can be worn with skirts and pants and halter tops and crop tops that can be worn with jeans and shorts."
Boho Beat
Soft, nomadic influences and plenty of bohemian allure are part of the Melissa Odabash Cruise '17 collection, which takes inspiration from the designer's "voyageur" lifestyle. Visualize embroidered tunics with tassel details and matching gypsy-inspired tops and skirts. According to BLEU | Rod Beattie Creative Director and designer Rod Beattie, beach cover-ups remain loose and easy this season. "Bohemian and peasant trends influence silhouettes from tops and dresses to caftans," Beattie said. "Engineered prints and scarf-like patterns [are] important. Off-the-shoulder treatments return," he added. Handcrafted details continue, including macramé, crochet trims, braiding and plenty of fringe.
Earth Angel
"The hottest trends this year include earth tones and luxury fabrics," said designer Courtney Allegra, whose Amazon rainforest–inspired Cruise collection includes stretch suede in earth and jewel tones. "I hope to promote awareness for [the Amazon's] decline and encourage its preservation with my 2017 collection's theme," she said. Earthy jewel tones are trending, according to Red Carter and Vitamin A designer Amahlia Stevens. "I largely incorporated an earth-tone color palette, with rich shades that embody vibes of the elements," said Stevens, whose palette includes copper, mineral, jungle, oasis and new, shimmery metallics.
Sports Luxe
"The impact of activewear in the mainstream has made sporty clean looks very directional," said LeSwim founder/designer Adriana Caras. Think color blocking, one-pieces, mesh fabrics and rash guards. "I think the activewear influence has opened up crossovers from swim to everyday life—one-pieces as body suits, rash guards that are sun protective and worthy of streetwear," she added. Many brands will be offering activewear-inspired looks, including LSPACE by Monica Wise, which is extending its LACTIVE line to include sexy, sleeved swim tops and mesh-inserted swim leggings. Melissa Odabash added a nautical spin to sports luxe–inspired styles this season with bold shapes, classic nautical colors, fish net and zip details.
High-Neck Tanks
"The success of high necks barrels on," said Cathy Hernandez, vice president of women's swimwear for Margaritaville Apparel. The high-neck tank was a breakout trend last season and is showing no signs of slowing down. Designers—including Jantzen, L*Space by Monica Wise and Anna Kosturova—are all serving up the look in a variety of fabrics, prints and shapes for Cruise '17. According to BLEU Creative Director and designer Rod Beattie, high-neck crop tops with modern detailing and D-ring lace-ups are key.
Tropical Punch
"The couture runways are all showing large, leafy florals and pastels. These trends are definitely spilling over into swim for Cruise '17," said Greenlee Swim designer/founder Casey Greenlee, whose collection includes wallpaper-like mix-and-match prints. Envision late-'70s and early-'80s glamour—a la Michelle Pfeiffer in the movie "Scarface"—as Greenlee's inspiration. For Peixoto founder Mauricio Esquenazi, inspiration for Cruise '17 came "from the beach to the streets—strong, confident women who are not afraid of wearing bold shapes and colors. The tropical lifestyle—the beach, sun and palm trees."
Sexy Back
Strappy lingerie styling continues to add allure to swimwear. "Strapping and lace-ups of all types look amazing in tops, bottoms, one-pieces and resortwear covers," said Margaritaville Apparel Vice President of Swimwear Cathy Hernandez. "The vast array of successful and widely accepted fashion silhouettes is what I'm finding most exciting. [Our customer] isn't playing it safe with just basic bodies but is comfortable in fashion lace-ups, low backs, strapping suits and any of our new twists on fashion that we have in the line," she added.
Beach Romance
"This season is all about celebrating femininity in more-traditional ways. Moving in a bit more of a sophisticated direction, emphasizing the back and neck," said designer Beth Richards. "The ruffle, bell sleeve and feminine details are most important this season," she added. For Anna Kosturova, Cruise '17 is about romance channeled through lacy crochet details, frills and ruffles. Kosturova's "Seduced by the Sea" Cruise '16 lookbook follows the story of a woman in love. "Beach walks, ocean dips and sand naps make this love affair so much more unforgettable. Her body is adorned with white crochet lace that looks like it was made just for her from the ocean foam of crushing waves," she said.