NEW LINES
Showroom Profile: Salt & Pepper Sales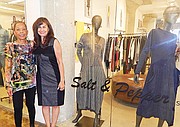 Salt & Pepper Sales
The New Mart, Suite 505
(213) 892-0722
Moving to a new showroom has been an energizing experience for Emmalena Bland and Bea Gorman, who make up the Salt & Pepper Sales showroom.
For more than 20 years, their showroom was located in the California Market Center. Then it moved to the Gerry Building for five years, and now it is in The New Mart.
"We definitely needed a change," said Gorman, sitting inside the 1,200-square-foot space, which has shiny concrete floors, white walls and big windows.
The décor hasn't changed much from the old showroom, which was a tad roomier at 2,100 square feet. Their oversize brown leather ottoman, which used to sit in back of the old showroom, now fits nicely at the front of the new showroom; a leather couch is tucked neatly against a wall in the compact office space; and the artfully crafted multicolored tapestry chairs by designer Sara Palacios give a festive air to the room.
Bland and Gorman said it is fun to be on a floor where all the showrooms are occupied and there is a lot of foot traffic during the Los Angeles Fashion Markets, held five times a year.
"We're picking up new accounts that didn't participate in the market at the Gerry Building," Bland said, noting that many buyers start at the top of The New Mart and work their way down, perusing each floor.
During the fashion markets, they share the showroom with Lynne Andresivic and her Crayola Sisters showroom, which used to be on the seventh floor of the Gerry Building.
The updated lines carried at Salt & Pepper Sales include Zzan Jewelry, a contemporary collection made in Israel; Banana Blue, which specializes in knitwear and wovens that are designed in Australia; Bryn Walker, a Northern California line that is comfortable yet sophisticated and manufactured in the San Francisco area; Pacific Cotton, a tops division by Bryn Walker, also made in the Bay Area; Eleven Stitch, a casualwear collection made in the U.S.; and North Star Base, casual lifestyle separates made in the United States.