TRADE SHOWS
UBM Bringing 'Swimlessons" to LA in June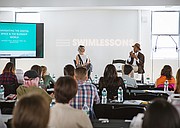 UBM—the parent company of MAGIC, Project, Coterie and Pooltradeshow—is expanding its Swimlessons bootcamp to bring the networking and educational program to a broader audience.
The trade-show giant recently hosted a Swimlessons event in New York, which drew about 150 attendees, and plans are underway to host another event on June 23 in Los Angeles. The speaker lineup at the Los Angeles event, which will be held at Millwick (formerly called Marvimon) near downtown LA, is still being determined, but topics to be covered include brand building, social media and trade shows. Like the New York event, the Los Angeles event will include panel discussions with established brands and retailers.
The New York event was held May 23 at Hudson Mercantile in Manhattan, where speakers included the Wetherly Group's Sonia Langlotz; FBA 360's Liza Deyrmenjian; Surfside Supply Co.'s Chris Manley; fashion blogger Marcus Troy; Hand Baldachin & Amburgey LLP attorney Douglas Hand; MR magazine's William Buckley; Rothmans' Ken Giddon; Olive and Bette's Stacey Décor and Alli Johnson, show director for The Collective and Pooltradeshow
Attendees had a chance to hear the panelists' advice about landing orders with better stores, connecting with consumers and retailers, positioning a brand in the marketplace, and distinguishing themselves from the competition.
"We want to be a great business partner for our brands and retailers all year long," said Erik Ulin, president of men's for UBM.
"Swimlessons is something that we've been doing for a while, and it's one that we wanted to expand the concept for. [Initially] it was for young brands, but we've opened up across the universe of all our brands. Wherever you are in your lifecycle, there's a value to you to earn from industry experts, hear other people's opinions and other people's experiences."
At the New York event, Ulin said, one of the topics covered was risk assessment and how brands can work to minimize risk when working with specialty stores or department stores.
Before joining UBM last year, Ulin was U.S. president for J. Lindeberg, which exhibits at The Tents at Project. His experience as an exhibitor showed him the benefits of networking at the trade show. "There's a social dynamic that goes on at the show. Having been an exhibitor myself, there's a collegial tone among exhibitors," he said.
Swimlessons is a chance for exhibitors to network between the trade shows. The event was originally started by UBM's Johnson. Ulin said he wants to expand the concept to "a broader audience within our shows and to build it going forward."
"One of our responsibilities as a trade show is to be part of driving the industry forward," he said. "We [have] a very good network. It's good to be able to avail that to our people and make sure they have a successful show and a successful business."
Swimlessons is invitation-only and open to exhibitors of UBM trade shows. For information, visit www.magic­online.com/swim-lessons.
RELATED STORIES