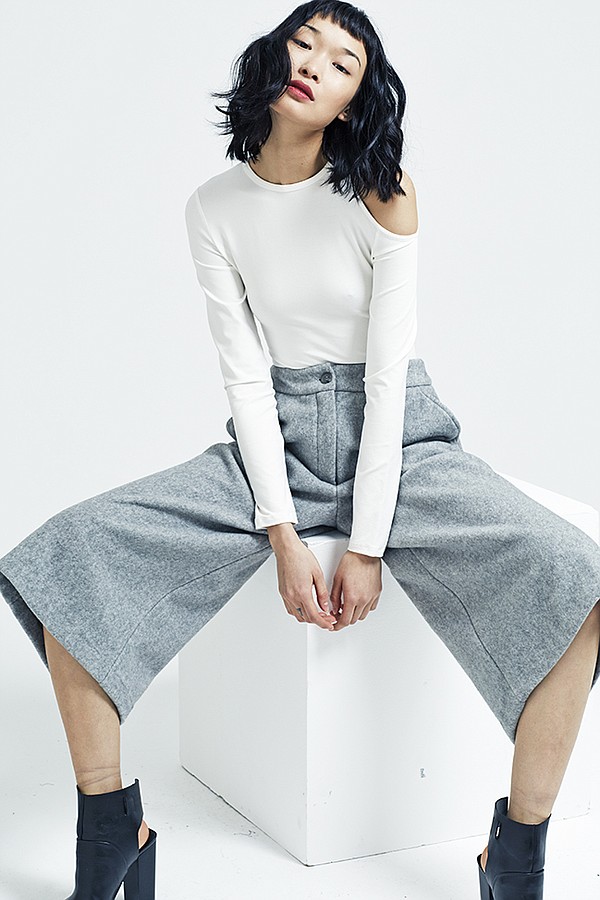 WEST COAST LUXE
Fall '16 Trends
On the West Coast, designers continue to push the edge from both casual to couture, adding a new level of luxury. For the look of the season, visualize feminine floral prints, a touch of Victorian romance and a luxe mix of fabrications. For style inspiration, think British icons such as Anita Pallenberg and David Bowie in the 1970s. Here are a look at the key trends of the season.
That '70s Show
The '70s revival continues for Fall '16. From flares to glam sequins and romantic lace dresses, look for the era to define the silhouettes of the season. "Fall often seems to favor the '70s—lots of rich, tonal colors, and the warmth that the prints evoke is reminiscent of faded-photo nostalgia mixed with the excess glamour of '70s rock 'n' roll," said designer Rachel Pally. The decade also inspired Kevan Hall. "Fall 2016 takes a look back at Studio 54 and the glam side of the 1970s," he said. "Think liquid sequins cut with an effortless modernity updated in a color palette of black iris, malachite and rose gold."
Folklore
Diversity is trending, and for Fall the theme plays out in multicultural themes with a folkloric spin. For Johnny Was designer Biya Ramar that means combining "disparate culture themes into one garment." The most directional trend of the season, she says, is "cross-cultural influences: combining motifs from across the globe, from kimono-style jackets with geometric tribal embroideries to peasant blouses in Oriental-inspired prints." Ramar also noted that mixed media is trending. Her take is "creating patchworked fabrics with printed and textured panels, adorned by colorful, scattered embroidery designs for a unique, artisanal look."
The Crop Pant
"The most directional trend for the season is volume in great coats and very full pants," said designer Trina Turk. There's no doubt wide-leg gauchos and relaxed fits have been trending, and this Fall designers update the look with a chic new cropped length. Look for it in everything from denim to wool, plaid and leather.
Feminine Simplicity
Femininity is back in a big way. Think pastel colors, form-fitted silhouettes and clean, feminine details. A key trend for ASTARS this season is "unfussy femininity," according to designer Denise Focil. "Buyers wanted feminine, soft pieces that were wearable and real for the modern woman. Soft, unfussy and cool," she said. For Again designer Amber Kekich-Purling, "the feminine cool girl" is the look. Think simple, boxy shapes, muted colors, large patterns and functional pieces. "I was really inspired by layering '80s glam with '80s Americana street styles, then kind of layering the two," she said.
Winter Florals
With femininity making a strong statement this year, floral prints are finding their way to the front of Fall's fashion lineup. At Adelyn Rae, "We think floral and upholstery-inspired prints are coming back stronger with moody, painterly styles. While florals are not the newest print direction, it is undeniable that it's vintage, feminine looks that bring out the best of romantic vibes from the '70s," said designer Kijoo Pyo.
Laid-Back Luxe
California is all about casual chic, and this season the Golden State's ever-popular style gets a luxe update. At Halston, "casualwear is still strong and continues to evolve for Fall '16." A spokesperson for the design house, known for its iconic '70s roots, said, "We've interpreted this with a laid-back luxe approach so that this trend still reflects our glamour-centric DNA. Relaxed layers with metallic details along with oversized coats paired with the fluidness of a silk slip dress help emphasize the casual, downtown vibe." Fabrications—especially suede—are key for AS by DF. "We introduced suede in so many categories and colors, and it has had an even stronger and better wholesale/retailer response than we had planned for," designer Denise Focil said.
Lady in Red
With romanticism in the air, red can't help but be a breakout color of the season. "It seems like every big designer is playing with fire!" said Single designer Galina Sobolev. "For Fall, many designers featured red on the runways, and it must be related to wanting to pop a Fall palette with a shot of vibrancy," she explained. "I love red and it brings life to any Fall palette, especially looks good with grays and always with black."
Luxe Mix
This Fall, it's all in the mix. Textures, luxe fabrics, a mix of patterns and a touch of eccentricity are the look. "Luxe materials such as statement fur, plush velvet and hand-embellished fabrics are making a comeback this fall," said designer Tadashi Shoji. For Halston, "metallics that come in liquid-like and shimmery surfaces, whether it is lamé, satin or foiled leather, are key." Designer Trina Turk is always one to experiment with patterns and fabrications. This season is no different. "Our theme for the season is 'Modern Magpie,' which encourages eccentric mixing of pattern/texture and color,"
Turk said.
Layering
For today's trans-seasonal dressing style, layering continues to be important. Luxe layers such as coats paired with knits, jersey and men's shirtings are not only functional, they're chic. "One of the more directional trends of next season, I think, is the 'long-over-long' proportions—the combination of elongated layers together, making one very fluid outfit," said Ann Tan, founder of LA-based brands Krisa, Lanston and Lanston Sport. twenty's Fall collection, including outerwear and knits, is meant to work in layers. "Our knits are ideal for flexible, everyday use in a modern luxury manner," said founder David Helwani. "As an overall theme, this collection is geared to the downtown, edgy, confident 'every city' girl that is looking to stay comfortable but impress at the same time."
New Romantics
Fall '16 is a season of romance. "Plush velvets and corduroys, romantic lace, ruffles, high necks and puffed sleeves, non-traditional colors for Fall" are key trends, according to St. Roche designer Sue Stemp, who added that winter pastels, turtlenecks and English eccentricity are also important. "A dark, romantic theme with an underlying Victorian reference" is the most directional trend, according to Adelyn Rae designer Kijoo Pyo. "Borrowing ideas from the past, we see designers incorporating high-neck, lace-up, ruffle and embroidery details in luxurious fabrics and featherweight chiffon," she added.