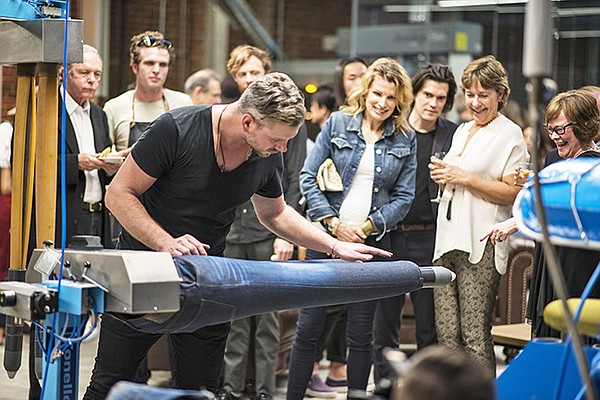 CANDIANI IN LA
Italian Denim Mill Candiani Opens L.A. Design Center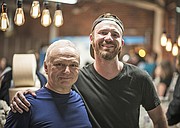 Designers and denim brand owners turned out to celebrate the opening of the Candiani Los Angeles Design Center on March 16 in downtown Los Angeles.
Los Angeles' denim brands make up nearly 40 percent of business for the Italian denim mill, which has a similar center at its headquarters in Robecchetto con Induno, Italy.
The Los Angeles space will serve as a research and development center for U.S. denim labels to work with Candiani technicians on new wash techniques.
"We can custom design washes to take advantage of the potential of our denim," said Alberto Candiani, the company's global manager. "We engineer fabrics to be treated in a certain way that is cost effective and clean. This is a showcase of what we can do."
Candiani customers can come to the design center to test different finishing techniques. Once they find a technique they want to put into production, Candiani technicians will provide them with the "recipe" to take to their wash house.
"In LA, everyone is concerned about not looking like each other," Candiani said. "We keep exclusivity for the customer, but we share all this laundry knowledge with the customer and their production partners."
Customers can also use the design center to host events with their sales force or retail partners, Candiani said. "Or even the final customer, [who] is interested in how the products are made," he said. "And we try to make it fun. To create the products is the most fun part."
Stocked with industrial washing and drying machines, a Jeanologia laser finishing machine, a spraying booth and stations where jeans can be hand finished, the Candiani Design Center uses less water than the standard dry cleaner, Candiani said.
The space has a modern exterior and a loft-like interior with exposed brick walls and a high ceiling.
"From outside, it's very modern and clean," Candiani said. "Inside it's also modern and clean, but it has the brick walls. It's bringing to Los Angeles what we have in Italy, which is a 78-year heritage."
Founded in 1938 by Luigi Candiani, the family-owned mill is now run by Luigi's grandson GianLuigi Candiani and great-grandson Alberto Candiani. With 650 employees and an annual capacity of 25 million meters, Candiani considers itself Europe's largest denim mill and the "most sustainable denim mill in the world."
RELATED STORIES