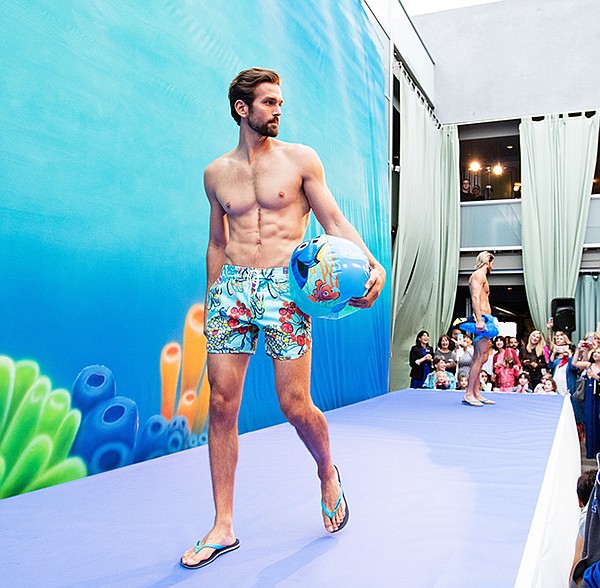 TRINA TURK
Finding Dory x Trina Turk Summer '16 Capsule Collection
On June 17, Disney Pixar will release "Finding Dory," the sequel to the 2003 Academy Award–winning animated film "Finding Nemo." The new film follows the adventures of Dory, a forgetful Pacific regal blue tang fish voiced by Ellen DeGeneres.
Celebrating Dory's return to the silver screen, Disney Pixar teamed up with California lifestyle designer Trina Turk, who created a vibrant ready-to-wear and swim capsule collection for the whole family. The Trina Turk women's and Mr. Turk men's collections are well established in the contemporary lifestyle market, but this was the designer's first foray into children's clothing, which proved to be a natural extension.
"For the collection there was a great synergy between the way the Disney Pixar films look and the product that we do, with California and the beach lifestyle," Turk said.
Inspired by the background art in the film and the bright colors of the characters, Turk brought the film to life sartorially with a custom oceanic print, featuring Dory and Nemo against a background of coral reefs and anemones. The whimsical print and vivid solid hues are splashed across jumpsuits for women, suits for men, shift dresses for girls and boardshorts for boys, in addition to swim styles for the whole family as well as luggage, totes, jewelry and accessories.
"Our first designer beachwear collaboration inspired by the world of Disney Pixar delivers a colorful and stylish range just in time for summer," said Josh Silverman, executive vice president, global licensing, Disney Consumer Products and Interactive Media.
The collection was presented as a family-friendly fashion show at the Shade Hotel in Manhattan Beach, Calif., on May 16, up against a vivacious aqua backdrop in a sea of bubbles.
The collection will be available in Trina Turk boutiques and online at www.trinaturk.com and www.disneystore.com as well as at Dillard's, Macy's, Lord & Taylor and a wide range of specialty boutiques across the U.S. Prices range from $48 to $228.