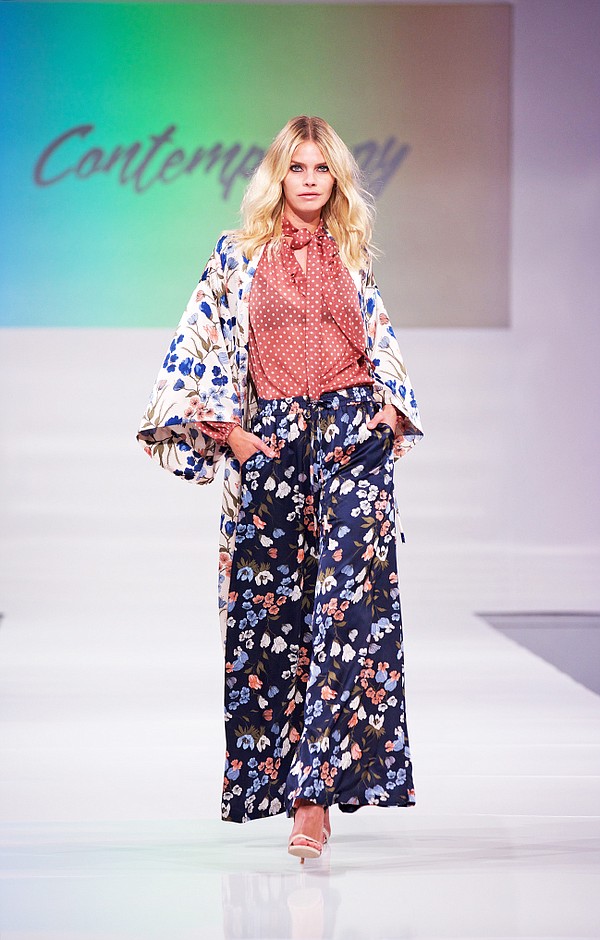 DIRECTIVES WEST
Directives West Shines the Spotlight on Major Trends for Fall/Winter 2017
Photo Gallery
Directives West Shines the Spotlight on Major Trends for Fall/Winter 2017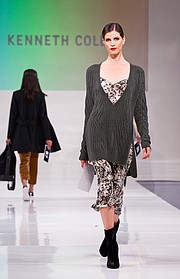 Photos by Norman Zeller
Sweaters with ruffled sleeves, high-waist jeans, graphic tees and long pullover sweaters are up-and-coming trends for clothes worn by juniors in search of fast-fashion merchandise this Fall/Winter season. Strong accent items will be hats and knit caps. Even berets will make a resurgence.
For the contemporary customer, key items center around trophy jackets in the form of dusters, kimonos or leather moto pieces. Tops with statement sleeves incorporating flounces, bell shapes and ruffles will also be important this Fall/Winter season while jumpsuits return with wider legs, modernized denim, textured wovens and silky fabrics.
In the world of better/moderate fashions, the femme blouse with choker necks, cutouts and lace- and mesh-inset accents will make an appearance on the style chart while crafted denim with embroidery, shadow patching, fraying, embellishments, studs and stones will be must-have items for the shopper who wants to update her blue-jeans wardrobe.
Those were just some of the looks seen on the runway at the April 3 trend forecast organized by buying office Directives West. The semiannual forecast, packed with buyers in town for the LA Majors Market, was held at the Fashion Theater at the California Market Center.
Shelda Hartwell-Hale, the company's vice president, introduced the trend show and told retailers and buyers they have to keep pressing forward "to innovate and be proactive, looking at all the developments happening in social influences."
She noted that technology is part of the conversation as well as staying in tune with customers' needs. "The consumer continues to evolve and we have to evolve with them," Hartwell-Hale said. Her advice for keeping in touch with shoppers was communication, engagement and experience.
The hourlong presentation featured 181 looks that spanned categories ranging from contemporary and misses to juniors and childrenswear.
Boho looks are still prevalent but this season—just add a dash of flower power to prints for dresses and skirts that will be as popular as ever.
Another popular trend for all age groups were faux furs in all kinds of silhouettes—vests, jackets and coats as well as trim on denim jackets and shoulder wraps.
Velvet was a principal fabric seen across the board in loungewear, pants and skirts. And denim was strong in all categories with skinny-leg jeans continuing to survive inroads from flare pants and baggy volumes showing up in several looks. Two-toned jeans and uneven hems have been worn by pioneer trendsetters, but they are becoming part of the mainstream look. A whole denim-on-denim trend is taking over with lots of denim coats and dresses over denim pants or denim jackets paired with denim pants.
With athleisure dominating the fashion headlines these days, there was a touch of the retro athletic style with striped track pants, fashion hoodies, skin-baring layers and oversized sweatshirts. Think bright colors, chevron touches and piping.
Edgy styles were highlighted in a category called "Rock Goddess." There are lots of reinvented leathers, high-shine fabrics such as gold and silver lamé seen in baseball jackets and bomber jackets, and shiny studs and embellishments on pants and tops.