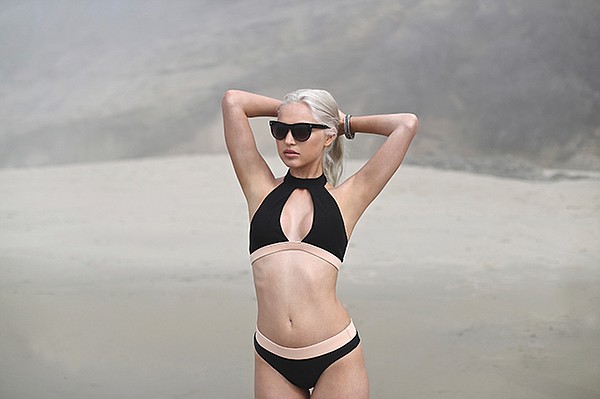 NEW SWIM LINE: VYB
Raj's New VYB Collection Defies Conventions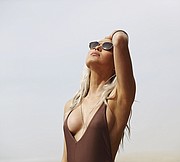 Raj Swim's newest collection, VYB, is set to bow this month with a Spring Break 2017 collection.
The line is designed by a 12-person team with the millennial shopper in mind. Alex Bhathal and Lisa Vogel, co–chief executive officers of the Tustin, Calif.–based swim company, tasked the VYB design team—the "VYB tribe"—with creating a collection with "authenticity from a true millennial perspective."
"Collectively we have a ton of swim experience amongst our VYB tribe," said Holly Swope, VYB senior designer. "Combined with our resources on hand, it has been a creative's dream come true. We are able to create without restrictions or micromanagement. We use our instinct to do what is right for the brand. It happens organically, and revelations and ideations occur constantly."
VYB—pronounced "vibe"—is made using dead-stock fabric from Raj's manufacturing facility. The luxury fabrics are excess inventory that would otherwise be destined for a landfill, according to the company.
"It puts an end to this massive trend of overconsumption and waste in the fashion industry," Swope said. "Plus, the VYB tribe is super-passionate about recycling and buying eco-friendly."
Fabric quantities are limited, which means VYB styles are produced in limited quantities, giving the line a sense of exclusivity and non-commodity, Swope said.
"In a sea of sameness and me-too product that exists with the fast-fashion world we live in, it is important for us to make sure our consumer feels like she is getting a high-end, quality product that might not be on everybody on the beach," she said.
Using fabrics in inventory also helps the VYB team turn out new product quickly, Swope said.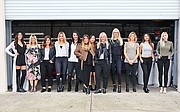 "The product itself is unique in the aesthetic and speed to market because we have eliminated the design lead times by using dead-stock fabric," she said. "We are able to hit the market and appeal to the trends of the evolving millennial consumer at a much faster pace than most competitors because the fabric is easily accessible and ready to be manufactured from our Orange County factory."
The launch collection includes mix-and-match separates, including triangle and bandeau tops and side-tie and high-cut bottoms. There are unique pieces such as the "No Chance Crop Bikini Top," a strapless style with a T-back and a band that wraps the shoulders. The "Lively Halter Bikini Top" has an asymmetrical cutout that exposes the décolletage. The "Cold Shoulder Crop Bikini Top" is a bandeau style with a dropped-shoulder silhouette. There are also one-piece styles, including the "Aventura V-Back Maillot One-Piece," which features ruching at the hips and a pair of straps that run down the back, and the "Desperado One-Piece," a strapless monokini.
The made-in-America collection includes an elevated premium assortment, which features five "vibes"—edgy, romantic, beachy, boho and sassy. Retail prices range from $60 to $120. There's also a core assortment of styles, which features clean styles and simple finishes. Those styles are retail priced from $30 to $50.
"We believe that since current brands in the market have very specific genres, we wanted to craft VYB Swim to capture all of these moods," said Holly Harshman, VYB's marketing director. "Somedays we wake up wanting to be edgy wearing a leather jacket or other days we feel romantic and would prefer a floral top. We dress according to our vibes. Our collection is uncommon and expresses our current mood."
The Resort 2018 collection of VYB will show in July at Swim Collective and the Miami SwimShow, but the first launch to consumers happens this month with a social-media influencer campaign.
"Not only are we changing the market with our approach to product, but we are also shifting the way we market the product," Harshman said. "Our VYB tribe of college ambassadors and micro influencers will hype up and represent VYB as we know our consumers trust and rely on people they know and follow above all else."
For more information, visit vybswim.com.