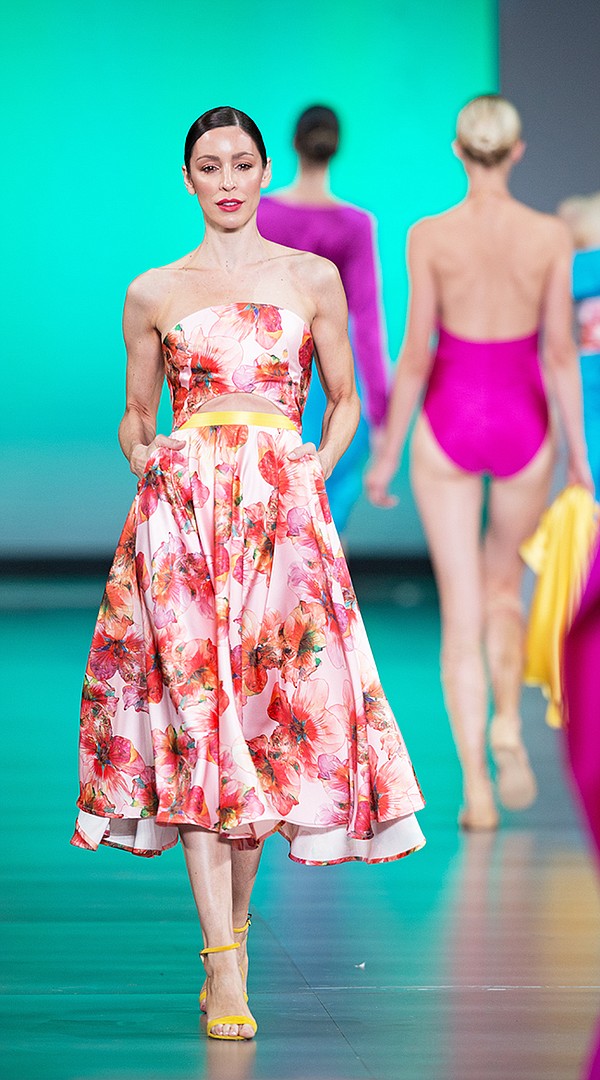 FIDM'S FUTURE DESIGNERS
FIDM Debut 2017
Photo Gallery
FIDM Debut 2017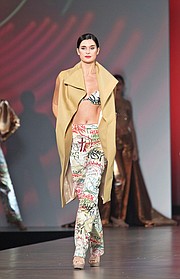 FIDM Debut Runway Show & Scholarship Gala | April 8 2017 | Santa Monica, CA | Photos by Benjamin Shmikler/ABImages, Sean Twomey/ABImages
The annual FIDM Debut runway show and scholarship gala is a celebration of the work of students in several programs at the Fashion Institute of Design & Merchandising: advanced fashion design, advanced study theatre costume design, textile design and interior design programs.
Guests at the event, held on April 8 at Barker Hangar in Santa Monica, Calif., were treated to a night of design that spotlighted all four programs. Nick Verreos, co-designer of the Nikolaki collection and FIDM spokesperson, emceed the event, which featured a cocktail hour, dinner and a runway show in the cavernous space.
The evening kicked off with Chairing Styles, FIDM's design project that combines the work of fashion, interior and textile design students. Together, they create an original print, a dress and a chair, which are featured on the runway at FIDM Debut. Se7en LLC, a division of Burlington Technologies, produced the fabrics. The chairs were created by 10 furniture manufacturers: Cisco Home/Cisco Brothers, The Flemming Group, Form + Function Design Studio, Haute House, Lola's Interiors, Magni Kalman Design, Michael Taylor Designs Inc., Pacific Hospitality Design Inc., Sardo Interior Services and Vitality Furniture.
The 2017 Debut designers presented several denim looks in recognition of FIDM's "Business of Denim" Advanced Study Program.
Students in FIDM's Advanced Study Theatre Costume Design program—including Sean Brewer, Allyson Crocker, Jennifer Gonzalez, Jade Antoinette LeBlanc, Jillian Nofziger, Alexandra Peña and Chiara Zalewski—created a series of costumes inspired by the theme of "Beat." The models sashayed and danced down the runway to a soundtrack that ranged from Jerry Lee Lewis' "Great Balls of Fire" and The BeeGees' "Staying Alive" to songs from "Footloose," "LaBamba" and "Grease."
The Advanced Study Fashion Design students showed everything from glamorous evening gowns to cheery childrenswear to edgy menswear in bold, graphic colors.
Dionard Campman, winner of the Jack and Joan Bonholtzer Scholarship, paired jewel tones of turquoise, fuchsia and magenta with a painterly floral print. Mahkam Khaki's menswear in bold shades of black, white and yellow combined several oversized houndstooth patterns. Khaki received the FIDM Merit Scholarship. Zahra Marchand's eveningwear paired red and fuchsia with a sophisticated leafy floral pattern. An off-the-shoulder gown featured a scattering of floral blooms across the full skirt. Marchand received the Karen Kane Scholarship and the Petrol Advertising Scholarship. Lilit Markosyan, winner of the Bob Mackie scholarship, showed ultra-feminine pieces ranging from candy-colored cocktail gowns to embroidered gowns in pastel tulle. Christian John Miller's edgy menswear paired metallics with animal prints and plaid. Miller received the Debut Scholarship. Peivand Mirzaie's white and bright-orange collection played with proportion with oversized ruffles and voluminous sleeves and pants. Mirzaie received the Nolan Miller Scholarship. Ashley Neville, winner of the Rose Morbit Bolognone Scholarship, showed separates in copper metallic paired with a graffiti print. Jasmine "Yasi" Sakak's collection paired an abstract print in shades of burgundy and pink with copper accents. Sakak received the Guess Inc. Scholarship. Nancy Elizabeth Hennessey's collection of ladylike silhouettes evolved from demure mauve and black styles to curve-hugging designs in vinyl, lace, faux fur and feathers. Hennessy received the John & Victoria Hill Scholarship and the Jerry Epstein Scholarship. Eva Yang's cheerful childrenswear collection featured color-blocked polka dots mixed with brights, neutrals and pastels. Yang received the FIDM Merit Scholarship.