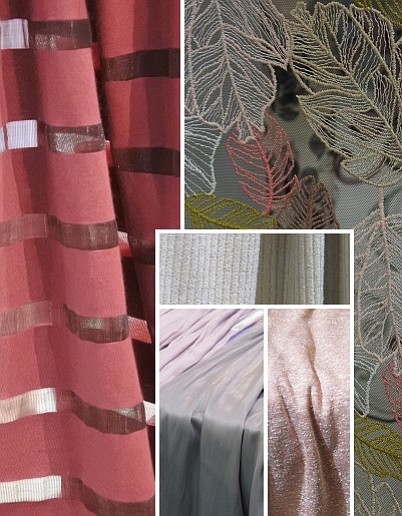 MATERIAL INSIGHTS
Spring/Summer '18 Material Insights by Trendstop
Global fashion forecasting agency Trendstop gave us its expert lowdown into the key materials trends and fabric applications impacting the Spring/Summer 2018 season. First spotted in Trendstop's SS18 Materials Forecast, these essential looks are now emerging at the leading fabric trade show Première Vision, Paris. From sun-faded jerseys and sheer stripes to lush, lacy foliage, SS18 is all about bringing a lightness of touch to all types of fabrications.
In The Desert—Sun-Faded Jerseys
The soft, sun-faded appearance of jersey is enhanced by gently speckled and marled finishes in multi-tonal colorways. Core fabrics are elevated with textures that mimic space-dye knits and rustic wovens.
Forest Blooms—Nouveau Netted Foliage
Netted lace takes inspiration from organic foliage, reworking delicate lace patterns with a modernist quality. Forest motifs are key with shapes sourced from elegant leaves and dramatic natural structures.
Soft Comforts—Cord Mimic
Soft padded ribs mimic the classic indentations of cord. Fine linear embosses with a subtly napped surface have a sensual, tactile touch while ribbed textures introduce surface interest in a sleek manner.
Industrial Surface—Viscose Influence
Viscose blends transform lightweight jerseys with a liquid fluidity and a luxurious weight, enhanced by high-shine surfaces while casual fabrics are elevated by the slinky, draping qualities of eveningwear.
Primary Games—Sheer Transparency Play
A hybridization of transparencies occurs as sheer and solid, clear, and opaque come together in a rework of the classic stripe that adds movement to ultra-lightweight seasonal wovens.
Looking for more trend insight? For Materials Directions, email info@trendstop.com for details. For more information about Trendstop, visit www.trendstop.com.
RELATED STORIES