EVENTS
CMC's June Charity Shopping Series to Benefit Red Eye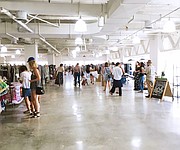 The third installment of the California Market Center's "Fashion With a Cause" charity shopping event is set for June 30 and will benefit nonprofit organization Red Eye.
Featuring a curated collection of contemporary apparel, accessories and lifestyle merchandise for women, men, children and home, the event will run from 9 a.m. to 4 p.m. and will coincide with the sample sales throughout the Los Angeles Fashion District. There also will be food vendors and family-friendly activities. Admission fees and 5 percent of sales will be donated to Red Eye.
Red Eye was founded to help youth and communities in need through programs such as its Youth Mentor initiative. The organization collaborates with other nonprofit groups and consumer brands and has connected more than 3,900 volunteers to more than 12,500 children, young people and families in need.
"Red Eye is excited to partner with the CMC for their Fashion With a Cause event," said Red Eye founder Justin Mayo. "It is an awesome way for our nonprofit to engage with culture creators, influencers and leaders within the fashion industry and downtown Los Angeles community who might not yet be involved with Red Eye. This event will empower creatives with the opportunity to make a local impact through mentorship of kids in the housing projects and helps to meet the needs of those living on the streets of Skid Row. Together, we are creating a better tomorrow, today."
The CMC's first two Fashion With a Cause shopping events were held last year and benefited the Wags and Walks dog-rescue organization. Organizers said the charity shopping event was founded "to integrate community-building and social-consciousness into its public fashion events." Previous vendors included For Love & Lemons, Fidelity Jeans, Kitsch, Vanessa Mooney, Spiritual Gangster, Crap Eyewear, DL1961 Denim, The Giving Keys, The Beach People, Eberjey and Poprageous.
For the June 30 event, sponsors include Jelly Belly, BAI, Califia Farms and OH! Snap Studios.
"The CMC is honored to be working with an important community organization like Red Eye," said CMC Event Manager Rebecca Dennis. "Based on the successful outpouring of support shown by our shoppers and the fashion-industry community at our previous Fashion With a Cause events, we're excited to rally the fashion community to pay it forward once again and help support programs that benefit our local youth in need."
The event is open to the public. Admission is $5 per person. For more information, visit http://cmcdtla.com/fashionwithacause.