TRADE SHOWS
Offprice: Even Discount Retailers Feeling the Pinch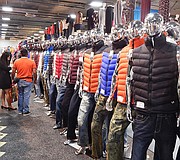 Bargain hunters should feel right at home at the Offprice show in Las Vegas, held Aug. 12–15 at the Sands Expo and Convention Center.
This is the place where all that super-discounted merchandise comes from. Where else can you find a set of scrubs for $5 or one-piece bathing suits in colorful print designs for $7?
But just as big name-brand retailers have been shuttering stores, so too have stores that buy off-price garments. "We've been seeing less people. Business is pretty challenging because there are less retailers," said Richard Bosch, owner and president of Alliance Wholesale Apparel, which took up a lot of real estate at the front of the show.
Getting well-priced goods is also more challenging with manufacturers doing more cut-to-order purchases as fast-fashion takes over. "The problem is always getting the product, not selling it," Bosch said.
To solve that problem, the discount wholesaler started his own label, Emily B. Emily B. includes swimwear, which has been increasingly difficult to find on the discount market as more swimwear manufacturers also now cut to order. "I used to buy 1,000 swimsuits at a time, and they are not there anymore," Bosch explained. His suits are print-driven and come in basic one-piece styles.
Not everyone was a discount vendor. Several apparel labels had established booths with colorful displays of their products. Elan Barshean, head of Uzzi Amphibious Gear, was surrounded by bursts of colors seen in his Caribbean-inspired men's swim shorts, Hawaiian-style shirts and tropical-print tops. A typical Hawaiian shirt wholesales for $7.
"Here you can find the big buyers. Ross comes here. Beall's comes here. There are so many big companies from South America, Puerto Rico, the Dominican Republic and Mexico," he said.
He said the show was about the same as last year. "All the shows are getting hit because of the online market," he explained. "Now, instead of getting the whole pie, you are only getting part of it."
Dany Separzadeh was another clothing manufacturer who was displaying his own label, called Fantazia, based in Los Angeles. His collection of womenswear ranges from velvet burnout ponchos and distressed jersey tunics to paisley-print tops and sublimation-print dresses with a Western-wear influence. "I come to this show mostly to find closeout buddies who buy from me," he said. But the show, he noted, was very slow this year.
The Tarsus Group, organizers of the Offprice show, said while some vendors said they felt traffic was down, attendance was up 6 percent over last year's August show.
RELATED STORIES