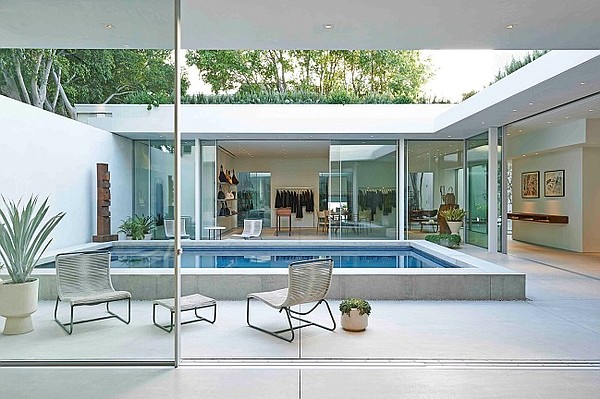 RETAIL
The Row Store Design Earns Award for Santa Monica Architects
For the second time, Montalba Architects has won an award for its design of The Row flagship store in Los Angeles.
Recently, the Santa Monica-based firm won its first American Architecture Award honoring premier projects, for The Row's store on 8440 Melrose Place.
The Row's first flagship store is designed in a style that embodies California Modernism and blends interior spaces with outdoor areas. The sitting areas have fireplaces, and there are galleries and several distinct courtyards in the 4,400-square-foot space. There was input by The Row's designers, twin sisters Mary Kate Olsen and Ashley Olsen.
Natural light floods the galleries flanking both sides of the exterior pool through operable floor-to-ceiling structural glass doors and a new 25-foot-long skylight.
Last year, Montalba Architects won a World Interior News award for The Row's design and completed additional projects for The Row, such as a Paris showroom and several shop-in-shops in the United States and Europe.
Montalba Architects, headed by David Montalba, has designed showrooms for Citizens of Humanity, as well as stores for Isabel Marant and Monique Lhuillier.
The architectural firm has also designed the Raquel Allegra boutique in Los Angeles, the Carolina Herrera bridal and ready-to-wear showroom in Beverly Hills and the Elizabeth and James store at The Grove shopping center.