TECHNOLOGY
Gerber's Sam Simpson Retiring After 47 Years With Company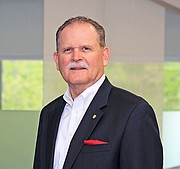 After 47 years with Gerber Technology, Sam Simpson announced plans to retire, but the longtime technology executive will continue to serve as a consultant to the Tolland, Conn., company as well as acting as a special adviser to Gerber Chief Executive Officer Mohit Uberoi.
"When someone spends more than 47 years in an industry, it becomes a part of them," said Simpson, who most recently served as Gerber's vice president of global strategic accounts.
Simpson's roots in the apparel industry began at G&H Manufacturing Co., a division of Genesco, where he was part of a team that developed the first automated grading and marking system and the first laser cutter for apparel applications. He joined Gerber when the company acquired the Hughes Aircraft Co. AM-1 system. At Gerber, Simpson has held many positions, including vice president/general manager of the Americas, vice president of global sales and director/general manager of the international division as well as several technical and marketing roles. According to the company, Simpson was "integral in the expansion of Gerber's international business activities in the European, Asian and Latin America regions." "It has been a privilege to work alongside Sam and learn about the industry," said Peter Morrissey, senior vice president global sales at Gerber, in a statement. "Sam's knowledge of the industry, customers and markets is unparalleled, and we thank him for his years of service."
Simpson will still hold his position as chairman of the Sewn Products Equipment Suppliers of the Americas (SPESA), an organization he has long supported. Simpson has been on the SPESA board since 2000 and was named chairman last year.
Based in Connecticut and owned by New York–based private-equity firm AIP, Gerber Technology supplies software and automation solutions to help apparel and industrial customers improve their manufacturing processes and manage their supply chain. The company has 78,000 customers in 130 countries, including companies in the apparel and accessories, home and leisure, transportation, packaging, and sign and graphics industries.
RELATED STORIES