TRADE SHOWS
Solo Active Collective Draws Diverse Retailers, Prepares for Move to Anaheim, Calif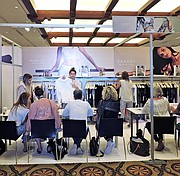 The Active Collective trade show, focusing on activewear and athleisure apparel, returned to Huntington Beach, Calif., for its July 18–19 run, which is slated to be the show's last at the tony Hyatt Regency Resort and Spa.
In January, the trade show will move to the Anaheim Convention Center, where its exhibitors will once again show their collections alongside the swim brands in its sister show, Swim Collective.
The news of the move came during a particularly busy Active Collective show.
"This is the largest attendance we've had so far—25 percent [increase] since the show last summer," said Devon Damelio, sales manager for Active Collective. "That's quite a nice jump."
This season, Active Collective drew a mix of buyers from core activewear retailers and yoga studios to major department stores and fashion boutiques. Many exhibitors reported seeing several international retailers as well.
"We have a really great international presence," Damelio said.
This season, Active Collective fell a week after Swim Collective, which may have limited the buyer turnout at both shows.
"Swim brings in a lot of resorts and hotels and spas," Damelio said. "Active exhibitors need to see that, too."
Contemporary activewear company Blanc Noir was juggling multiple meetings and appointments with buyers from Neiman Marcus, Bergdorf Goodman and E Street Denim, according to Burt Damsky, vice president of the company, which is based in Hong Kong with U.S. headquarters in New York.
"It's a great show with a pretty diverse customer base," Damsky said. "All the active stores are here—and those that are evolving to become contemporary stores."
Blanc Noir's collection includes pieces that bridge the gap between activewear and edgy athleisure.
A new piece, for example, is a lambskin leather jacket with power mesh—"for climate control"—that has the edgy look of a motorcycle jacket with the performance attributes of a track jacket. The new collection also includes a performance blazer and a matching trouser.
"You can go to a boardroom or to work out," Damsky said. "You have same comfort and range of motion."
At the Manhattan Beachwear booth, the Cypress, Calif., company was showing Trina Turk Recreation and the company's own label, Green Dragon.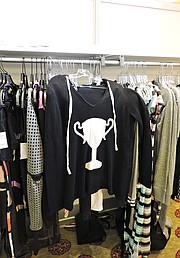 This season, the company looked to leverage its "design aesthetic to separate ourselves from the crowd," said Howie Greller, vice president of design and merchandising.
"We're not going to out-legging someone with a black legging," he said. "We talk straight to the consumer and find out what she wants to wear. Our job is to give the consumer what she doesn't have."
For the Trina Turk customer, that means a blend of fashion and functionality with key pieces in Trina Turk signature modern prints. There are cheeky items, such as the "Trophy Wife" sweater, featuring a trophy graphic. Green Dragon has more of a boho aesthetic but is also for the avid traveler with easy-to wear pieces featuring prints, fabric treatments and embroideries.
"The philosophy is simple: travel clothes with a boho modern aesthetic," Greller said. "It's beach to street."
This was the second time at Active Collective for Irvine, Calif.–based Z Supply, which was showing its basics collection along with its newly launched swim line.
Kendra Coleman, Z Supply's senior account executive, West Coast sales, said turnout at the show included resorts, fitness studios and boutiques.
"We're looking for different channels," she said. "They're all here."
Eric Balfour, cofounder of Electric & Rose, agreed that the turnout at Active Collective was well-targeted.
"All the important buyers are here," he said. "It's about seeing the accounts we want to see."
Based in LA's Venice neighborhood, Electric & Rose has become known for its original prints, but for Spring the company went for novelty treatments instead, offering shibori tie-dye styles and garment-dye pieces.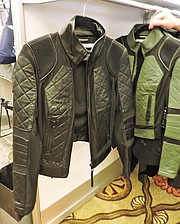 "This year, for the first time, we did a solid black legging," Balfour said. "The buyers wanted a black legging from Electric & Rose."
Other new pieces in the collection included a mesh coverall, transition pieces for after workouts and new seamless pieces that are all made in Los Angeles.
The company recently hired Ashley Calagna as the new vice president of sales and merchandising. Calagna spent eight years at Alo before joining Electric & Rose in April.
This was the first time at Active Collective for Fountain Valley, Calif.–based Virus. The 6-year-old company makes performance leggings for several key markets.
"We have an MMA [mixed martial arts] offering, we have an SUP [stand-up paddleboarding] offering, we have a Crossfit offering and an Olympic weightlifting offering," said owner Colin Gilles.
The company's newest division is an athleisure program, which was getting a good response from buyers at Active Collective.
"All our female athletes were asking for something to do yoga in that's more fashion forward," Gilles said.
This was the debut for new line Toujours, based in Dana Point, Calif.
Founder Jennifer Rust spent years in merchandising at Puma and Adidas before launching a "work-appropriate" activewear collection that can be worn from work to workout.
For the launch of Toujours, Rust focused on fit and fabric, using a cotton spandex for the core collection and a Tencel fabric for layering pieces. The collection is made in LA and the cotton/spandex is sourced from local mills.
"I want to support the local industry to be able to work with local suppliers and local factories," she said.
Brazilian textile mill Kalimo was another newcomer to the show. Julia Culau, who runs the Los Angeles office for the Brazilian textile mill, also showed at Swim Collective the previous week.
"This is our industry," she said. "It's important for us to be present at all levels. We had a good response with active and swim accounts. We feel it's the right place to be."
The next edition of Active Collective and Swim Collective will be held Jan. 11–12 in Anaheim. Active Collective returns to New York for its second run Jan. 24-25 at the Metropolitan Pavilion.