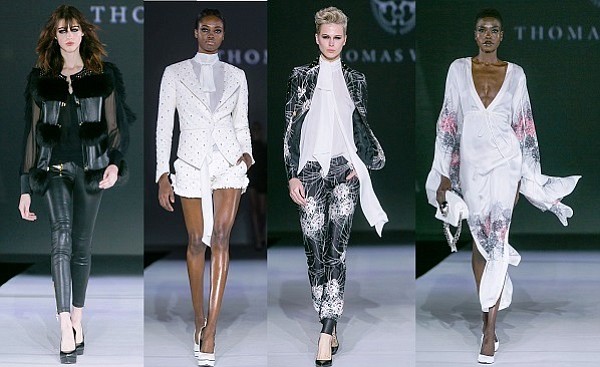 Thomas Wylde's Luxe Rock 'n' Roll Chic
Los Angeles luxury label Thomas Wylde showcased its edgy blend of rock-chic and luxe femininity when the company presented its first Los Angeles runway show on March 12 at Style Fashion Week at the Pacific Design Center.
"This season is the beginning of a new Thomas Wylde," said Jene Park, creative director for the brand.
Rather than show the Fall collection, Park decided to predominantly show Thomas Wylde's current season. She added some special items designed exclusively for the runway show and a hint of the upcoming Fall collection. Park said the decision was driven by the consumers, who want to buy pieces as soon as they're shown on the runway.
"Every time I have a fashion show, they want it now," she said. "So I changed the formula to see now/buy now."
The other change for Thomas Wylde is the decision to show in Los Angeles, Park said.
"We are an L.A. brand selling globally. Why not celebrate being in LA?" she said.
Park wants to "bring fashion glamour back to L.A.—especially Hollywood. That's why the front row of my show was young Hollywood. I have that in my backyard," she said.

Indeed, the show drew a celebrity audience that included Nicole Scherzinger, Christina Milian, Peyton List and Pia Mia.
On the runway, Park presented a collection in classic black and white, punctuated with a handful of prints, including the brand's signature skull motif. There was also a hand-drawn floral design called "Higanbana," which was also the name of the Spring/Summer 2017 collection. The higanbana, or spider lily, is the Japanese flower of death, Park explained. The poisonous blooms are grown in graveyards to ward off demons.
"We are a rock 'n; roll brand," Park said. "We celebrate something dark and grotesque and turned it into art."
The Higanbana print was designed in-house. The black-and-white design had subtle touches of red and green, which represent blood and new life, Park said.
The runway show featured plenty of Thomas Wylde's signature "DNA pieces," "Park said. "The leather, fur, the skull print, biker jacket and pants—very rock 'n' roll—those are there."
Pieces featured a cross motif done in caviar studs. There was plenty of gold and silver hardware, as well as clear and black crystal studs. A quilted leather jacket and shorts ensemble was embellished with gold studs and tiny gold skulls. Park arranged gold studs in several sizes to give one leather piece the look of a star-filled sky. On white chiffon, the effect was a scattering of water droplets. Polished gold zippers skimmed down the arm of a jacket or along the seam of a pair of cropped pants. There were artfully tailored suits, second-skin leather leggings, delicately ruffled blouses and caped dresses, as well as a bomber jacket trimmed with rhinestones and vests trimmed in studs and stripes of fur.
"I'm not street style and I'm not avant garde," Park said. Instead, she prefers to dress women to be beautiful and glamorous. Put on a short-sleeve trench coat trimmed with crystal and "you feel special, you are empowered," she said.
The fabrics are sourced from Italy and France, many from the same mills and resources used by European design houses. The cashmere comes from Tibet.
"I put a lot of effort into the materials," Park said.
There were also a few pieces in bleached-out denim embellished with gold pearl studs.
"Until we do a full separate denim line, I wanted to inject a little special denim," Park said. "That's why we do it with ruffles and studs and the signature [skull-print] lining. That's the spirit of the house."
A graphic rabbit print paired with a 13-letter explicative provided a hint of edginess and a nod to a new generation. The rabbit motif showed up on a T-shirt, as well, with the phrase "Don't kill my vibe" on the back. The lyocell knit top is part of Thomas Wylde's collection of T-shirts emblazoned with cheeky statements. A recent shirt read "Be naked when I get home."
Park praised the "fabulous Thomas Wylde team" for putting on the runway show at Style Fashion Week, which she called "a labor of love."
"A show like that never happens with one person," she said. "I always find people who love to do what they do. This is why I work with some people for such a long time. I consider the people I work with as family. Behind all the glamour, it's family."