LA Style in the Spotlight at Brand Assembly
To introduce its new creative, co-working space, Brand Assembly hosted a networking event in partnership with The Zoe Report, designer Rachel Zoe's fashion, beauty, and lifestyle portal.
The March 14 event was held at the co-working space, called The Square by Brand Assembly, located on the mezzanine of the Cooper Design Space.

Hillary France, co-founder of the Brand Assembly trade show, was on hand to welcome the guests.
"This is what I hope to be the first of many panel discussions," she said "And [it is] the kick-off event for The Square."
When France and co-founder Alex Repola launched Brand Assembly four years ago, the idea was to create a platform to help emerging designers. France's former employer, the Rachel Zoe collection, was one of the first exhibitors to show at Brand Assembly, which has grown from three brands to 130 at the recent March 13–14 show at the Cooper Design Space.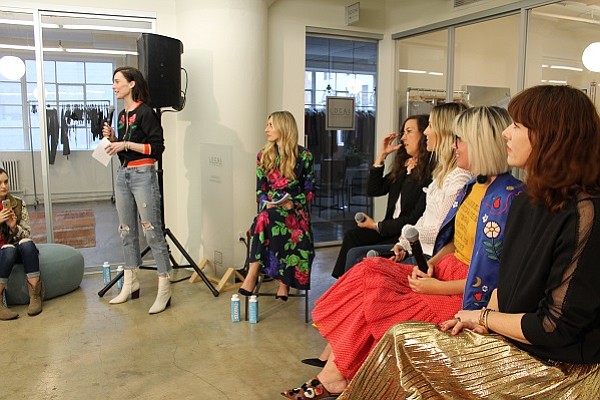 The March 14 event featured a panel discussion titled "California Dreaming: Insider Perspectives on LA's Fashion Revival." Nicky Deam, the editorial director of The Zoe Report, moderated a panel of industry insiders and influencers, which included Clare Vivier, founder and designer of Clare V. bags; Jacey Duprie, editor and founder of the Damsel in Dior blog; Jen Gotch, founder and chief creative officer of Ban.do and stylist Penny Lovell.
LA used to be an under-the-radar style hub, Lovell said, until Hedi Slimane was named creative director for Saint Laurent in 2012 and opened a design studio for the couture house in the Los Angeles.
"It was a secret," Lovell said. "Then Hedi Slimane made it not a secret. [It was] Paris comes to LA. It was a big deal."
Vivier agreed that Los Angeles is currently enjoying a moment in the fashion spotlight.
"There seems to be an editorial shoot in Paris Vogue every month in Los Angeles," she said. "Besides that, it's been a slow burn for the last 15 years. The tide has changed and the rest of the world is interested in what the creative community is doing."

Lovell praised the creative freedom Los Angeles offers but noted that the local industry doesn't have the discipline seen in London or New York.
"The biggest problem I have in Los Angeles is communication," she said, urging emerging designers to reach out to stylists. "We love working with local designers because we can work in real time. [But] don't send me a line sheet. Send me three beautiful images. I need to see who you are and what you stand for in a couple of images."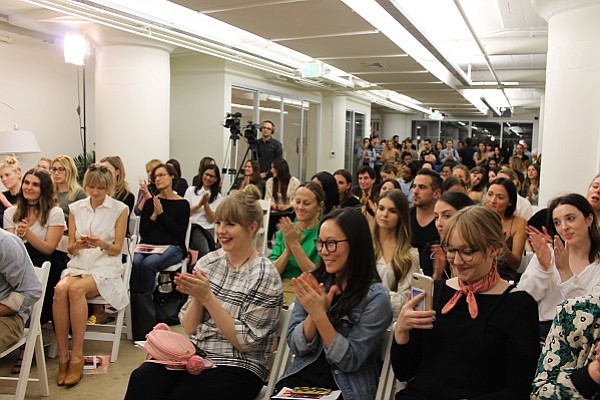 Vivier discussed finding her first factory in 2006. As her company grew, her production would fill the capacity of a factory and then she would add another.
"Right now, we work with five factories and also printer and skilled artisans in Los Angeles," she said. "It's been wonderful to see these factories hiring people."
But it took Vivier's her father, an attorney, to point out her role in providing jobs in the local fashion industry.
"He said to me 'You're creating jobs in your community.' That was a lightbulb moment. I'm really proud to be producing in Los Angeles," she said.
Gotch said she toyed with the idea of leaving Los Angeles shortly after selling her company to a business based in Nashville three years ago.
"There is something about this city that I wasn't prepared to give up," she said, adding that Los Angeles is an intrinsic part of the Ban.do ethos. "I think the energy of this city infused itself into the brand."
For Duprie, Los Angeles provides the perfect setting for her business.
"Hands down, I think L.A. is the best landscape for blogging," she said. "It can be challenging because we don't have fall. We don't have snow for Christmas. [But] we'll plan a trip to Vermont or upstate New York for those sweet fall shoots."

Deam asked the panelists—if they could go back in time--what advice would they give themselves when they were first starting out.
"Don't do it," Gotch joked, adding that it's advice she personally would not have taken.
Starting and building a business is difficult and takes a long time, she said, then added "[But] it felt like the only right thing."
For Lovell, it was about recognizing the learning experiences along the way.
"I would tell myself that every crap job taught me something," she said. "I've been on every side of it and now I need every single part of that."