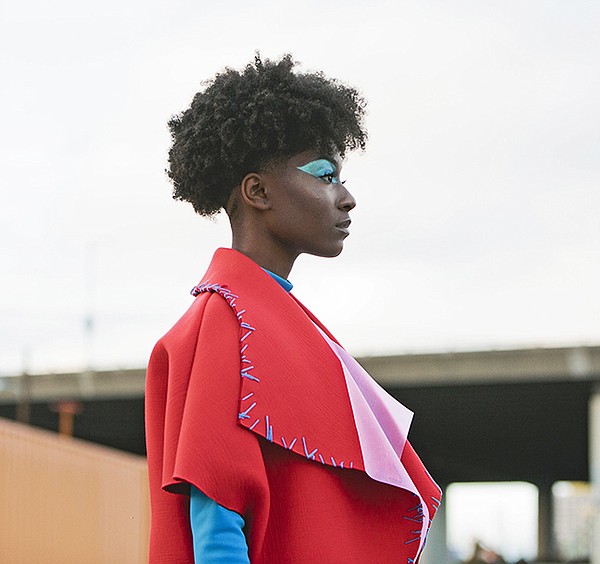 CCA FASHION EXPERIENCE
CCA Showcase SF Style in 2017 Fashion Experience
Photo Gallery
2017 Fashion Experience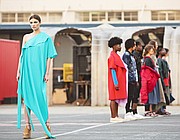 California College of the Arts 2017 Fashion Experience | May 11, 2017 | San Francisco, CA | Photos by Alison Yin Photography
California College of the Arts hosted its annual runway show—called the 2017 Fashion Experience—on the back lot of the college's San Francisco campus. This was the first runway show under John Bauernfeind, who took over the chair of CCA's Fashion Design Program last fall.
The May 11 show featured 10 designers and a diverse mix of "street-cast" models against a diaphanous structure created by CCA architecture students.
On the runway, three of the fashion designers were from California, including Northern California natives Eliza Oakley and Camille Malland. Oakley took inspiration from skater style to create a collection that played with proportion and scale. Malland drew on her American and French roots to create a collection she described as "trashy," "classy" and individual. Southern Californian Yui Fukunaga used denim, wool and leather to create a collection inspired by the makeshift resourcefulness of the homeless people she saw on her daily commute.
Florida native Sterralda Osias took inspiration from her family, including her Haitian father and his interest in the solar system to create a menswear collection that blended aspects of the Mercury spacesuits with Western wear.
Aigne French found inspiration in the environment of her hometown, Philadelphia. She used embroidery and bright colors to emulate the graffiti and uplifting murals she saw in her childhood neighborhood.
Vipavee Kang is from Thailand but said memories of her grandmother in Singapore with her sewing machine inspired her to try to sew. Kang's collection featured wrapped and layered pieces that could be worn in a number of ways.
In creating her collection, Iranian-born Saba Bagherzadeh Matanagh envisioned a creative working woman who travels for business but wants to have fun at the same time. Her collection draws inspiration from Persian architecture and shades of turquoise and blue with pops of bright shades such as fuchsia.
Three of the students in the show—Hanyue Zang, Jiexen Li and Ziqi Wang—are from China.
Zang drew inspiration from men's shirts for her collection of womenswear, which featured crisp, striped shirting fabrics paired with polka dots and pops of red. Li envisioned an independent thinker as are her muse for her men's and women's collection of layered and draped pieces rendered in nearly all black. In contrast, Wang showed a collection of women's and men's pieces entirely in white. She was inspired by doctors' and nurses' uniforms as well as the white sheets found in hospitals to create her collection of oversized, draped pieces.
CCA's Fashion Design Program was founded in 1996 to be a cross-disciplinary program driven by ideas and emphasizing design concepts and skill development. The program is one of 22 undergraduate and 12 graduate programs offered in art, design, architecture and writing by CCA, which was founded in 1907.