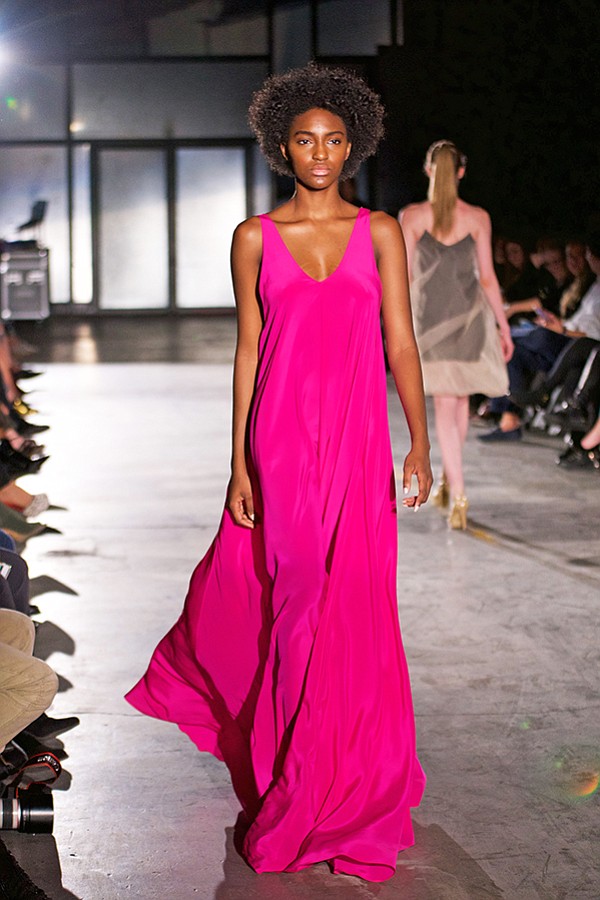 'RUNWAY' STAR
FCI Highlights Students' Work and Guest Designers from 'Project Runway'
Photo Gallery
FCI Highlights Students' Work and Guest Designers From 'Project Runway'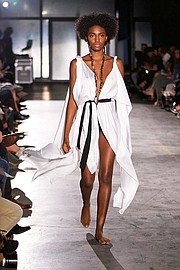 Photos by Volker Corell
FCI Fashion School hosted its most recent runway show on Oct. 5 at a studio space in the Boyle Heights section of Los Angeles. Several hundred guests turned out to see the show, which featured designs by seven FCI students and four designers competing in the current season of fashion reality show "Project Runway."
"This group is amazing, so dedicated, so hardworking," said Joe Farrell, FCI's fashion merchandising chair.
FCI offers a three-month, intensive fashion design program, Farrell explained. "After three months, they have studio time to put their collections together," he said.
The runway show featured the work of FCI students Karon Yasmin, Erica Duque, Munkh-Of Dulamragchaa, Sandra Ling, Olawanle Orgunmola, Simay Belur and Natalie Salvador.
Yasmin showed a crisp, color-blocked collection of shift dresses as well as a dramatic high-low gown in red. A jacket featured an interesting twisted-fabric detail on the back.
Duque's opening look was a plunging-neck dress in a painterly floral print that led to a collection of jewel-toned dresses and gowns.
Dulamragchaa's collection included an ivory trench coat–style dress with lace sleeves and a silver lace gown.
Ling opened her collection with a two-piece pink dress with corset piping and topped a backless sheath dress with a lace jacket.
Orgunmola topped a royal-blue maxi dress with a fishnet cape and showed an easy dress in an engineered tie-dye print.
Belur went somber and moody with a nearly all-black collection that included a sweeping priest's coat, cocoon-like caftan styles and draped ensembles that paired matte and sheer knits.
Salvador's collection featured recycled garments that were reworked with inspiration from Henri Matisse's paper-cutout designs. The collection included a sheer black dress with silver appliqués and a babydoll-style dress in an ombré-dyed fabric.
The event's guest designers included Kentaro Kameyama, an FCI alumnus who is currently an instructor at FCI. Kameyama was joined by his fellow "Project Runway" contestants Batani-Khalfani, Margarita Alvarez and ChaCha.
Kameyama opened with architectural pieces in white before mixing in pops of chartreuse, cocoa and a fuchsia finale gown. The architectural theme continued in boxy sweatshirt styles over second-skin leggings and a swirl of mesh over a black sheath dress.
Batani-Khalfani's collection ranged from an intricately constructed dress in a geometric pattern to a dramatic wrapped and draped gown and a high-low fishnet maxi-dress.
Alvarez showed a wide-ranging collection that included minimalist sheath dresses and wraps, dip-dyed separates and fun pieces trimmed with delicate silver and gold fringe.
ChaCha's collection was filled with over-the-top embellishment and cheeky details. A sequined cape dress segued from turquoise to fuchsia, a velvet gown was trimmed with blue lamé and gold tulle, and the finale piece was a cape made from piles of stuffed plush toys.