TECHNOLOGY
Gerber Technology Brings Ideation Conference, Tim Gunn to Los Angeles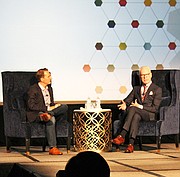 Gunn Returns to Ideation Conference
"Project Runway" mentor Tim Gunn was the guest speaker at Gerber Technology's Ideation 2017
conference in Los Angeles. The former Parsons School of Design fashion chair sat down with Karsten Newbury, Gerber's senior vice president and general manager of the software solutions group, for a "fireside chat" at the Universal Sheraton on Nov. 2.
Gunn marveled at the changes in technology since he last spoke at an Ideation event in 2015.
"I feel like Rip Van Winkle, like I've been asleep for 40 years," he joked. "This is an industry that is constantly in motion. What I find most compelling about it has to do with consumer behavior. People's shopping proclivities are in motion. I am curious to see where they land."
Gunn said he has been a proponent of apparel technology since his days at Parsons.
"When I inherited the fashion department at Parsons, there was no computer technology at all," he said. "The first company we contacted was Gerber."
Gunn has been one of the stars of "Project Runway" since the fashion reality show first debuted in 2004. Now in its 16th season, the show recently started working with models in a range of sizes from 2 to 22.
"We are completely married to having this diverse range of models," Gunn told the audience.
Each season, "Project Runway" includes a "real-woman challenge," which Gunn noted is "a euphemism for women who are larger than a fashion model." This season's designers' experience working with models in a range of sizes produced some of the best "real-women challenge" garments of the show's series, Gunn said.
"This season was the best we ever had," he said.
The former instructor told the "Project Runway" designers the experience working with diverse sizes would benefit them in their careers.
"There is serious neglect of part of the population," he said. "This will absolutely enhance your viability as a designer."
Gunn told the crowd at Ideation that he is a firm believer in working collaboratively.
"I find with change and change agencies, it's the collaborative approach that is most successful," he said.
He also said he believes in continuing education, noting that he recently began taking fencing classes. ("En garde!" he told the audience.)
"I believe in being as well-rounded as possible and having as many experiences as possible," he said. "I'm envious of the tools these young people have."
For the first time, Gerber Technology hosted its Ideation technology conference in Los Angeles, where visitors to the three-day event previewed software demos, panel discussions, runway shows, a design contest and a "fireside chat" with "Project Runway" star Tim Gunn.
"LA is a great market for us," said Bill Brewster, Gerber's vice president and general manager, enterprise software solutions. "Not only are there a lot of great companies doing designing here, but they are manufacturing here as well and we provide solutions for the entire value chain."
The event, held Nov. 1–3 at the Universal Sheraton hotel in Los Angeles County's Universal City neighborhood, drew record attendance, Brewster said.
The annual conference has been held in cities across the country, including a stop earlier this year in San Francisco. The West Coast conferences draw not only West Coast Gerber clients but also companies from Asia, Brewster said, while the East Coast events tend to draw East Coast and European customers.
"The Ideation conference is really a platform for communication and collaboration with our customers, Brewster said. "We meet once a year and exchange ideas."
The company then integrates that customer feedback and input into its roadmap for the future, Brewster said.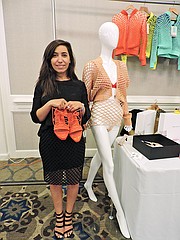 Gerber rolled out a number of software updates at Ideation, including advancements to its AccuMark products of pattern-making, marking and grading solutions, and production planning software as well as the announcement of the launch of Gerber's YuniquePLM 8.0 next year. Gerber also announced a partnership with San Francisco–based Avametric on an advanced 3-D-simulation engine that integrates into Gerber's AccuMark2D software to allow users to view a realistic rendition of fabric properties for digital samples.
"The industry spends so much time and money on samples," Brewster said. "Being able to reduce the number of samples gives the design department more feedback and more options. They can see how the product will look on the model."
Digital sample making is one of several technologies that allow retailers and brands to bring products to market faster.
"If you can streamline workflow, you will be a more successful brand or retailer," Brewster said.
In addition to highlighting Gerber products, the Ideation conference also featured new developments from some industry partners, who were sponsors of the event.
"We make sure our software is open to integrating with other systems," Brewster said. "It enables them to extend the value and to create a more seamless workflow."
One of the Ideation sponsors was Mequon, Wis.–based print technology company Kornit, which had one of its direct-to-garment printers set up in a section of the Sheraton that Gerber had dubbed the "Interactive Studio."
The tabletop T-shirt printer can print up to 50 shirts per hour. But Kornit's main DTG machines are capable of printing up to 200 shirts per hour, said Kornit art director Erin Ormsby.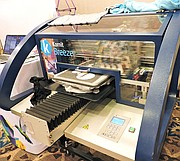 The printers use water-based inks and can print on virtually any fabric, including cotton and tri-blends. Kornit recently introduced a neon ink set and was displaying some garments printed in the bold, bright colors. Kornit also has a roll-to-roll printer, which is used by textile makers such as Los Angeles–based textile supplier Robert Kaufman Fabrics as well as Durham, N.C.–based custom fabric printer Spoonflower.
Designer Danit Peleg was also among the companies exhibiting in the "Interactive Studio." Peleg used Gerber's AccuMark 3D and YuniquePLM software to create a new limited-edition bomber jacket made using Peleg's 3-D-printed fabric. Peleg was demonstrating how she prints the fabric, which is made using a flexible web-like structure that allows the 3-D fabric to drape, fall and move like a traditional textile.
Peleg first presented her concept as her thesis project at the Israeli fashion school Shenkar. She is billing her bomber jackets as the first commercially available 3-D-printed garments. The jackets are currently available on her website (danitpeleg.com). On the second day of the show, the designer was wearing a 3-D-printed pencil skirt she's planning to introduce next. She also had a pair of 3-D-printed shoes on display at Ideation.
It takes 100 hours to print one of Peleg's jackets, but the designer said over the past two years 3-D-printer speeds have vastly improved.
"It's three times faster than it used to be," she said. "Technology is evolving really fast."
Peleg is currently testing a new cotton-blend filament for 3-D printing. She also sells the 3-D files of her designs to allow people to print the garments at home.
"I compare it to the music industry," Peleg said. "Ten years ago, people would go to a store and buy a CD. Now they download music. The same idea will happen with fashion."