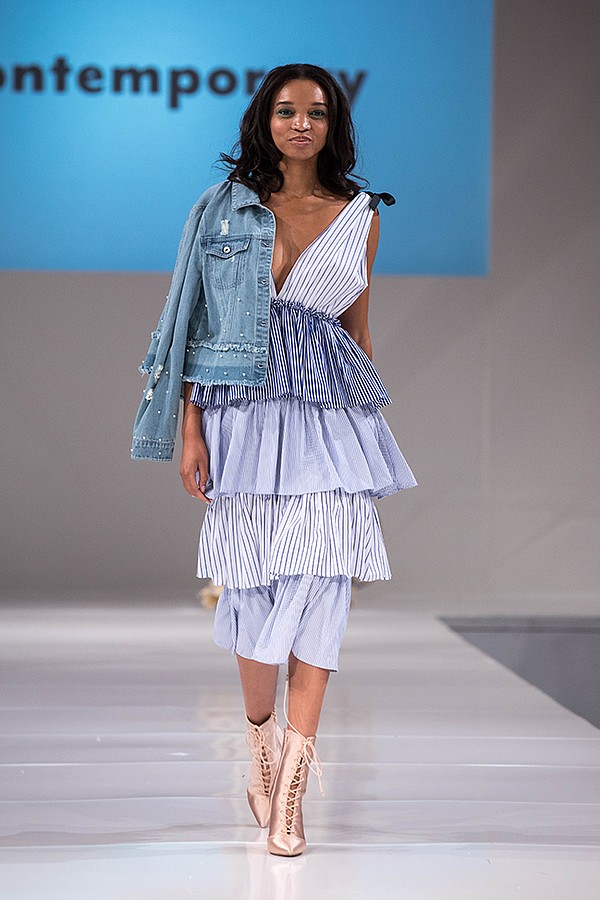 DIRECTIVES WEST
Denim Dominates on the Runway at Directives West Trends Forecast
Photo Gallery
Denim Dominates on the Runway at Directives West Trends Forecast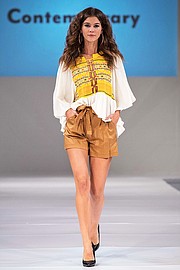 Photos by Norman Zeller
If you were betting that denim would make a big comeback for the upcoming Spring/Summer 2018 season, you were right on the money.
At the Directives West trend forecast, denim was seen everywhere at the runway show held on Oct. 2 at the Fashion Theater of the California Market Center during LA Majors Market.
Denim was seen in form-fitting dresses, boxy jumpers, mini-skirts, all kinds of short shorts and scruffy jackets. It came with ruffles, off-the-shoulder silhouettes and halter-top looks. Denim pants came with floral embroidery, cropped silhouettes, trimmed with ragged edges or replete with ripped fabric. The message was denim, denim and more denim.
Ruffles were another mainstay in the scores of looks Directives West presented in its forecast, which covered the contemporary, misses, juniors and girls' categories. Ruffles fluttered at the hems of cropped pants. They made their way down skirts and dresses and bounced along long-sleeved blouses.
Kimono tops lent a breezy air to the scores of styles that emphasized that today's woman wants something casual and comfortable.
Metallic accents were seen in bright gold or silver shoes as well as silvery tops. Cropped tops ruled again and went well with a 10-inch-rise denim pant that has been popular for the last few seasons. Knot-front tops and wrap tops were also abundantly present in the trend forecast.
Dainty floral prints blossomed everywhere as did striped fabric on dresses, blouses, shirts and skirts.
Roberto Ramos, senior vice president of global strategy and communications for The Doneger Group, which owns Directives West, said the company talked to scores of young fashionistas to see what was powering their purchases. Laid-back pieces and comfortable styles were key to their decisions. To set themselves apart, the statement jacket was an important element in their wardrobe.
Young consumers said they are still shopping at retail stores, but they would like these emporiums to guide them in terms of looks and concepts to get a better handle on what is in style.