EXPENSIVE REAL ESTATE
Jones Apparel Founder Selling Former House of Famous Talk-Show Host
Ten years ago, Sidney Kimmel, a founder of Jones Apparel Group, and his wife, Caroline Davis, bought the Malibu house once owned by talk-show host Johnny Carson for $46 million.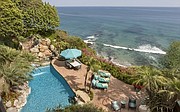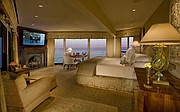 Now they have put it up for sale for $81.5 million. Kimmel 89, is also a movie producer known for such films as The Clan of the Cave Bear, The Kite Runner, Moneyball and Gone.
He took Jones Apparel Group public and later the company was sold in 2014 to Sycamore Partners for $2.2 billion.
The house covers more than 7,000 square feet, has a pool overlooking the ocean and a pretty nice tennis court. The house was built in 1978 by Malibu architect Ed Niles, who incorporated high ceilings and lots of wood and copper accents as well as tall windows.