TRADE SHOWS
LA Textile Show's Mix Includes Fiber, Fabric, Factories and More for Sourcing from Concept to Creation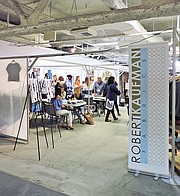 Traffic ebbed and flowed during the Oct. 2–4 run of the Los Angeles International Textile Show at the California Market Center, where exhibitors included just about every point along the apparel supply chain.
Tencel fiber maker Lenzing had a booth near several U.S. mills, including Buhler Quality Yarns, the yarn spinner in Jefferson, Ga., and Southern California–based knitting mills Texollini, Design Knit, SAS Textiles and Unitex.
The designer collections section—which includes several high-end resources, including French mills Solstiss and Malhia Kent and Canadian knit collection Tricots Liesse—was, once again, located near the show entrance on the 13th floor.
This season, show organizers moved the Sourcing section from a separate space in the C-wing of the building to a space on the main show floor. The new location was praised by exhibitors.
"I feel like there is an effort to make the show more organized," said Jennifer Cole, chief executive officer and director of J Cole Studio, a print studio located in Long Beach, Calif.
Several exhibitors noted that traffic seemed highest between the free seminars offered by the CMC. This season, the lineup included trend forecasts by WGSN and Peclars Paris as well as B2B seminars by the California Fashion Association, Global Purchasing and Scaling Retail.
At the Texollini booth, there was a steady flow of existing customers plus new up-and-coming brands, said Sherry Wood, the company's director of merchandising. Wood said she had seen activewear and swim brands as well as ready-to-wear companies looking for fabrics with performance aspects, such as moisture-management properties or UV protection.
"They want more functionality out of an everyday garment," she said. "Some people are asking for sustainability stories as well."
Daniel Kadisha, Texollini's chief executive officer, said activewear and athleisure continue to be important markets for the mill. Additionally, he said interest in made-in-America fabrics and production remains strong."
"We've had some major companies come to us and are in the process of [sourcing production in the U.S.]," he said.
In the Buhler booth, Vice President of Sales David Sasso was sharing space with Mandi Strictland and Mike Moody of Wildfire Knit Works, a recently launched knit development company affiliated with North Carolina–based circular knit machine maker Vanguard Pai Lung.
"What this industry needs is more education, more know-how," Sasso said. "Everyone needs to collaborate."
At French lace mill Solstiss, President François Damide and Los Angeles account executive Cecile Lim said they had seen designers and buyers from South America, Canada and Romania in addition to attendees from Southern California.
Damide said he was seeing some small, couture designers, who were looking for high-end fabrics at low minimums. Solstiss' minimums are five yards.
Phil Fox, owner of Fox Fabrics, was at the show with several international collections, including Ipekar, a Turkish print mill; several Italian lines, including SMI, Estrema, DBS Tessuti, Furpile and Efilan; Max Vogue from China; and TexAthena from Spain.
On the second day of the show, Fox said he was still waiting to see some of his regular customers from Northern California, Texas and Colorado.
"I've seen fewer out-of-towners," he said.
It was busy at the booth for Kalimo, the Brazilian print mill with an office in downtown Los Angeles. Julia Culau, who runs the Los Angeles office, said foot traffic was "up and down," but, in general, the turnout was better this season than at the last show.
Sean Zarini, manager of Los Angeles–based importer Fabric Selection, was upbeat about the turnout at the show.
"Yesterday and the first day were busy all day," he said on the final day of the show. "Today is quiet, but we still have customers coming in."
This is the third time Fabric Selection has exhibited at LA Textile and the second in the same location. Fabric Selection stocks fabric locally and drop-ships to customers producing overseas. The company works with both large and small customers.
'If they want to buy one roll, no problem," Zarini said, adding that the company provides the same level of service to all customers, regardless of size.
John Marshall, owner of JM International, had several international mills at the show, including Malhia Kent, Bennett Silk and the Confetti collection of prints.
"This year is a print year," said Yasemin Selçuk, who works at the mill in Bursa, Turkey. The U.S. market currently represents 10 percent of Confetti's business, Selçuk said. The mill's primary markets are France, the United Kingdom, The Netherlands and Germany.
Laurie Warner, a sales representative for JM International, said the good thing about the Confetti line is that the mill adds up to 60 new designs each month.
"I always have fresh designs," she said, adding that designers who want to see the whole collection should review it at a trade show.
"The collection is so vast, it's hard to take it all to one customer," she said.