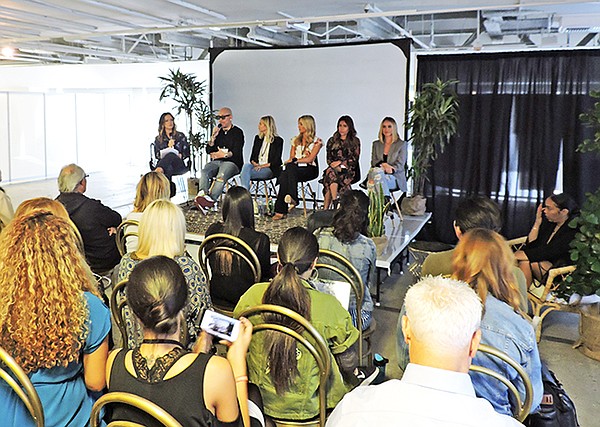 TRADE SHOW
CMC Hosts Influencer Panel
The California Market Center organized several seminars during the recent Los Angeles Fashion Market, including one titled "The Importance of Influencers for the Modern-Day Retailer." Moderated by Ali Grant, founder of Be Social PR, the Oct. 10 panel included jeweler and founder of the children's line Superism Ben Baller; actress Becca Tobin, host of The LadyGang podcast; bloggers Sophie Elkus, founder of Angelfood Style, and Ashley Torres, founder of Everyday Pursuits; and Kaitlynn Carter, cofounder of the Foray Collective e-commerce site.
The panel discussed the importance of influencers and having an authentic voice in promoting a brand.
"If it's a brand whose whole ethos is something I connect with, that creates an authentic post," Tobin said.
The social media–savvy group advised the audience on the importance of engagement over sheer follower numbers.
"Brands are wising up to what authentic engagement is," Elkus said.
The group also detailed some of the costs involved in producing a compelling post, including scouting locations and hiring a photographer.
'We put together a team to shoot something for you and we're amplifying it for you," Grant said. "Content is expensive. A half day with a model and a photographer and you're up to $3,000. At the end of the day, this is how we make a living."
Carter said her company offers a range of services to fit several budgets. For example, Foray will host an influencer trip and invite one or more brands to partner with the company on the trip.
"The brand gets exposure and we provide photos," she said.
The audience had several questions for the group, including the estimated cost of hiring an influencer. Grant said her rule of thumb is $100 per 10,000 followers. An influencer with a million followers would, therefore, charge $10,000 to $15,000 for an Instagram post.
"Most influencers want to focus on a flat-fee collaboration, but a lot of brands want to work on a performance basis, Elkus said. "Maybe they'll start out with gifting. That's where brand will notice who's converting sales."
Another question from the crowd concerned whether a brand or an influencer should post about current events, such as the recent hurricanes in Texas, Florida and Puerto Rico.
Torres suggested that might be a day to take a break from social media.
"Maybe don't post that day," she said.
Baller said he rarely posts about Friendly Earth, the e-cycling company he launched in 2010.
"People assume that everything they see on Instagram is your life, and that's not necessarily the truth," Elkus said.