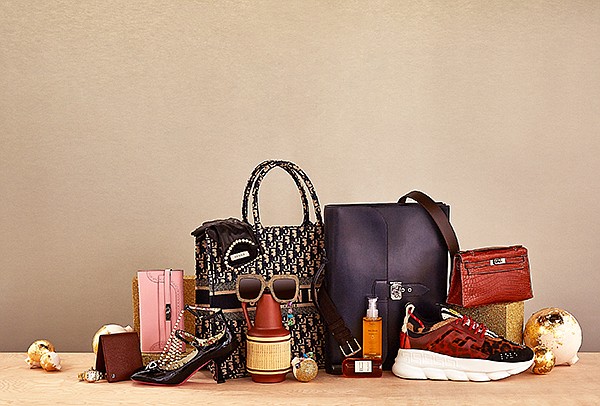 LUXURY RESALE SECRETS
The RealReal Releases Holiday Resale Report
With the 2018 holiday season in mind, The RealReal has revealed the highest-valued resale items at the top of luxury-brand lovers' wish lists this year.
The 2018 Holiday Resale Report, released Dec. 6 by the San Francisco–based luxury resale brand, shows that heritage brands are showing strong staying power year over year.
"The report is a guide to holiday shopping for luxury brands with a focus on long-term value," said Rati Levesque, The RealReal's chief merchant. "Gifting an item or brand that is on the rise in resale is the gift that keeps on giving for the recipient."
Among women's brands, Hermès'saverage year-over-year resale price increased 67 percent. The French firm's popular Birkin, Kelly and Constance bags enjoyed an increase of 7 percent year over year. A brand staple, the Birkin bag has enjoyed a storied history of being the most coveted of Hermès's handbags, but the Constance design is gaining ground with a 67 percent year over year increase in average price.
"We sell a lot of jewelry and watches in the stores as well as higher-value handbags," Levesque said. "Additionally, we often have customers come to the store and then later decide to purchase what they viewed or tried on from our app or site."
Outerwear designs from luxury brands showed great promise in 2018. Women's pieces from Moncler have reportedly experienced a resale value up to 90 percent of the original price.
With every holiday season comes leaders of the resale pack, such as Hermès, but there are also brands that fall behind by this time of year. Declining in resale value this year was Tory Burch, which fell by 16 percent year over year. Miu Miu experienced a 7 percent year-over-year decline, and Tom Ford dropped by 6 percent year over year.
While Italian fashion house Gucci also enjoys heritage status among women, The RealReal said "the most giftable Gucci style" was found in the men's segment. Its Ace sneaker style helped Gucci's resale value rise 12 percent year over year while it holds 69 percent of its total resale value.
Gucci also performed well in the women's segment with a number of pieces from its GG Marmont collection, launched in 2016, retaining 85 percent of their retail value. Of particular note, the brand's Matelassé Belt retained 96 percent of its retail value, according to the report.
Other notable brands in the men's area were outerwear maker Canada Goose, which captured an 82 percent resale value, and the rising resale value of designs from Virgil Abloh's Off-White. The brand's pieces climbed to 12 percent year over year. Pieces from the Off-White x Nike collaboration continue to resell above retail cost.
Declining in resale value among men's goods were Kenzo, which fell 19 percent year over year; Chrome Hearts, which dropped 15 percent year over year, and Dior Homme, which had a 10 percent decrease year over year.
In addition to apparel, fine jewelry was trending strongly on holiday wish lists in 2018. Landing at the top of The RealReal's report for the second straight year was Van Cleef & Arpels, whichshowed a 74 percent resale value from its original price and a 5 percent uptick year over year. The top men's watch brand was Rolex, whose rising resale value of 14 percent year over year continues to rise.
With the report, The RealReal hopes to streamline holiday shopping by helping shoppers find the perfect gift that is also an investment piece.
"It's knowledge and data we wanted to share with consumers as we continue to drive a more sustainable way to shop that results in extending the life cycle of luxury items," Levesque explained. "It was designed as a data report, but it's really a guide for smart gifting—the ultimate luxury shopping guide for the mindful consumer."