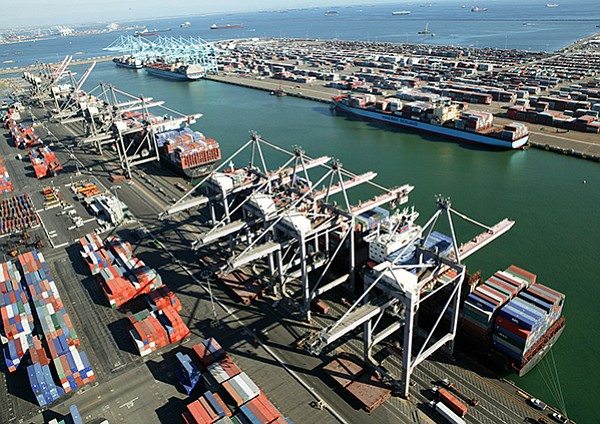 TRADE WAR THREAT
A Budding Trade War Could Harm a Growing U.S. and California Economy
Despite rumblings of a trade war, the U.S. economy is marching forward at a nice pace as the U.S. unemployment rate hits a low not seen for almost 50 years.
Jobs are still being created every month with no end in sight. Even with inflation heating up to 2.4 percent during the first five months of this year, everything seems to be under control. In May, the U.S. unemployment rate was at 3.8 percent and the California unemployment rate stood at 4.2 percent.
"It is steady as she goes for the regional, state and U.S. economy," said Robert Kleinhenz, an economist and executive director of research for Beacon Economics in Los Angeles. "Here in California, it has been a good year, outpacing the U.S. in terms of job creation. We have seen 1.8 percent to 2 percent growth in jobs over last year compared to 1.6 percent for the nation as a whole," he said.
In California, industries that have been expanding the most rapidly include healthcare, leisure and hospitality (mostly restaurants), and the construction industry, Kleinhenz said.
One cloud on the horizon is a possible trade war, which could have a ripple effect on the Los Angeles/Long Beach port complex, the largest in the United States. Nearly 40 percent of all cargo containers that come into the United States are processed by these two ports.
Recently, the Port of Los Angeles calculated that U.S. tariffs on items including aluminum, steel, washing machines, solar panels and possibly cars would have a big effect on its business. Gene Seroka, the port's executive director, recently calculated that U.S. tariffs on Chinese goods and retaliatory Chinese tariffs could affect 15 percent of shipments passing through the watery gateway.
A 25 percent tariff on $34 billion in Chinese goods is scheduled to begin July 6, along with Chinese retaliatory measures of the same value on U.S. goods.
There are also plans for the U.S. to impose 25 percent tariffs on an additional $16 billion worth of Chinese goods, and 10 percent tariffs on $200 billion more, but the timing of those tariffs is still up in the air.
This comes at a time when the local ports are showing healthy cargo-container volumes. Last year was a record-breaking year for both the Port of Los Angeles and the Port of Long Beach. Together, both ports handled 16.8 million 20-foot cargo containers compared to 15.57 million containers in 2016.
But container traffic at the Port of Los Angeles is down 4.4 percent this year while volume is up 16.2 percent at the Port of Long Beach.
Paul Bingham, an economic consultant who specializes in trade and transportation at the Economic Research Development Group in Boston, said there is no doubt that trade wars damage economies. "When you have imposed tariffs and barriers to trade, just the uncertainty to transactions around trade raises business risks, which has costs," he said. "It leads to hesitation and exploration of trading alternatives. And for an important gateway like we have in Southern California, it means that there will be less business, less hours for longshore workers and less employment for companies that handle products."
Foreign businesses thinking of setting up a factory or office in the U.S. might shift their plans, feeling their investment might be in jeopardy if they plan to sell their goods around the world.
Bingham estimates that a trade war could reduce the nation's gross domestic product by one-tenth of a percent to one-half of a percent this year. Currently, the nation's GDP is expected to grow by about 2.9 percent in 2018. "This could shake businesses, consumer confidence and tip us into a recession," the economist said.
Shop till you drop
With more money in their pockets, consumers have been on a major shopping spree recently. In May, consumer spending at retail stores was up 5.6 percent over last year while clothing and clothing accessories stores did better with an 8.2 percent jump from one year ago, according to the National Retail Federation. "I haven't seen this much economic confidence since Ronald Reagan was president [in the 1980s]," said Britt Beemer, a retail analyst and founder of America's Research Group, which polls 1,200 consumers a week to take the pulse of their retail-spending attitude.
But he said any retailer who wants to survive needs to get out of a shopping mall. "Mall traffic is dropping like a rock. The anchors are pulling the malls down," he said. "It's an economic mess."
In a recent survey, he said that 56 percent to 58 percent of consumers said they don't want to shop in a mall because it was so inefficient. "You have to park, walk through the parking lot, walk through the mall to get to the stores and walk back through the mall to get to the parking lot," he explained. "And the under-35-year-old crowd is incredibly impatient. If you waste 15 minutes of their time, they get angry."
He believes more malls will be converted into lifestyle centers and you will see reproductions of successful larger stores such as Macy's at Herald Square in New York. "People like that experience. They love the selection, but they don't want to go to a mall."
Retailers have to be wherever the consumer is, said Paul Zaffaroni, managing director and co-head of consumer investment banking at Roth Capital Partners in Newport Beach, Calif. "Sometimes the customer wants to shop online and sometimes they want to go to the store," he explained.
A good example of a retailer that has embraced both sides of the commercial aisle, he said, is the clothing chain New York & Co. "If you look at their business, they have close to $1 billion in sales, but 30 percent of their business is e-commerce, which is high," he noted. "They started making investments in technology before a lot of the others. They have done a lot better job of adapting, and they are more omni-channel than ever."