EVENTS
FIDM Introduces Next-Gen Designers to 'The Dos and Don'ts' in a Design Career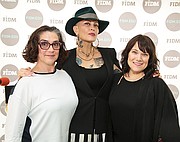 During its annual intensive-study program for high-school students, the Fashion Institute of Design & Merchandising's "3 Days of Fashion" provided opportunities for hands-on lessons, including a workshop for each participant to decorate tote bags provided to formerly homeless individuals who are now residents of the Skid Row Housing Trust.
The event also introduced students to influential industry professionals who offered real-world wisdom regarding how to navigate a career in fashion and design.
On June 21 these passionate student designers, many of whom are in their junior and senior years of high school, participated in a panel discussion held during their second day at FIDM and hosted by FIDM instructor Andre Barnwell.
Students learned important lessons, as three industry veterans—film and television costume designers Kimberly Adams and Mandi Line and Kimberly Culmone, who serves as Mattel's vice president of Barbie design—offered crucial fashion education and career advice for today's young fashion set.
Relating to the teenagers by discussing her own high-school years, Line shared a personal story about how channeling hardship into a hobby laid the foundation for her future career. After falling ill and losing her hair, she began creating hats and headbands that gained positive attention from classmates.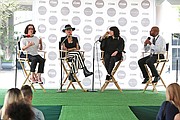 "It changed my life because I took an ailment, something I thought wasn't okay in my life, and used this fabric that was bright and had daisies to construct something," Line explained. "I had a girl in the bathroom ask me, 'Can you make one of those for me? Can you make one for my mom?'"
As the first in her family to attend college, Culmone faced high expectations from her family members to enter a field they felt would lead to a more lucrative career than pursuing a creative area. She encouraged parents who were in the audience to support their children as more jobs in the future rely on skills attained through a creative education.
"For parents, as we move into 21st-century learning skills, many of the jobs your kids will have don't exist yet in the world," she said. "Creativity, communication and those skills of collaboration that come from the arts are the key to success in the future, so absolutely support your kids who are interested in creative fields."
While teenagers are often viewed as fickle or indifferent when it comes to career direction, the designers on the panel noted that students must grow out of these traits once they begin their careers, whether its during an internship or first job after college.
"I want somebody who is excited about life and wants to learn," Adams said. "Show that you're excited about whatever it is that you're meeting somebody about. Be excited about it and find what it is that you love about it and talk about it."
Acknowledging the importance of paying it forward, Adams, Culmone and Line agreed that giving back to the school was extremely important.
"It's important because I remember being them. I am committed to giving back to the creative community," Culmone said.
Becoming part of the process that leads the students to determine where they want to go in their fashion and design careers was also crucial to shaping future designers.
"I think it's good to help them break the ice of how overwhelming this might be for them," Adams said. "I hope any little tidbits we might give them might help them either understand what they want to do or not want to do."
Looking toward the future of the industry, Line wanted to influence the students before the day arrives when she is working with them. "They're going to hopefully be the people that we hire, so I think the more realistic it can be, the better," she said.