MANUFACTURING
New Owners of American Apparel Set Goal to Double Sales This Year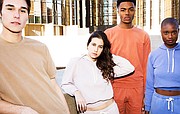 It has only been a little more than one year since Gildan Activewear acquired the intellectual-property rights of American Apparel, the decades-old Los Angeles apparel company that twice declared bankruptcy in a little more than one year.
At its peak, American Apparel's revenues climbed to nearly $634 million in 2013 before the long descent of the company founded by Dov Charney in 1989.
Gildan took formal control of American Apparel in February 2017 and had a little more than one month to ramp up new production and then get the label in front of wholesalers and consumers again. In that first year, Gildan took in $50 million in sales. This year, the goal is to double sales to $100 million.
Key to boosting revenues is the marketing team, which is located in Los Angeles even though Gildan is headquartered in Montreal.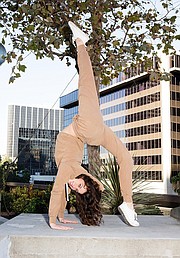 "To remain true to the label's roots, the marketing, merchandising and design team is in Los Angeles and will stay that way," said Garry Bell, Gildan's vice president, corporate marketing and communications. "The brand has a distinct voice, a distinct feeling and vibe, and we don't want to disrupt that."
The marketing team is headed by Sabina Weber, who worked at American Apparel before the company declared bankruptcy its last time. She has an all-female team—many who also worked at American Apparel when it was headquartered in Los Angeles.
Weber and her team are marketing the brand on social media and selling the collection on its e-commerce site, which was up and running at the end of last July.
To further ramp up sales, Gildan plans to expand the label's sales to the United Kingdom and then on to Europe, Canada and later Japan, Bell said. "Gildan as a company sells in more than 60 countries around the world, and it is advantageous of us to leverage that infrastructure to introduce the American Apparel brand in as many markets as possible," Bell said.
American Apparel's core customer remains the 18- to 34-year-olds who are technologically savvy and are looking to express themselves with a fashion sense using core basics that can be dressed up or down.
Right now, the wholesale side of the business is generating the biggest revenues for American Apparel, with sales to concert promoters, souvenir tours and fund-raisers.
But on the consumer side of business, Gildan has been promoting its "Back to Basics" campaign, which consists of basic T-shirts, sweats, baseball jerseys, rugby shirts and shorts that sell for $22 to $54 if they are made in the company's factories in Nicaragua and Honduras.
The styles that are manufactured in the Los Angeles area sell for about $4 to $10 more than imported styles. The company doesn't break out what percentage of its products comes from the United States versus Central America.
While Gildan isn't adapting the risqué advertising campaigns that American Apparel was known for, there is still a slight edge to the photo shoots, which are done on real people with real bodies rather than on thin models who are not typical of the average person. "You will see there is a little stepping back from being overly sexualized, but it remains playful and sexy. It is a good expression of the power of women and their natural beauty," Bell said.
TSC Apparel, a distributor in Cincinnati, Ohio, used to sell American Apparel T-shirts to wholesalers when the company was run by Dov Charney. It continues to sell blank American Apparel T-shirts to screen printers, concert promoters and entertainment companies.
"There were inventory challenges for us with American Apparel last year," said Bob Winget, president of TSC Apparel. "It created a period where customers went and found other options when they were gearing up production, and then it can be difficult to bring them back when the situation improves. But American Apparel sales have definitely gotten better."
Winget would like to see more Made-in-the-USA T-shirts in the American Apparel collection because many of his customers liked that American-made product.
Gildan's ownership of the American Apparel brand name came after several other companies were vying for the brand.
American Apparel used to be the poster child for how you can make a profit and manufacture clothes in the United States. But the once thriving T-shirt company hit a roadblock when federal immigration officials stepped in to verify if everyone on the American Apparel payroll had legal documents to work in the United States. The inspection resulted in American Apparel having to lay off 1,800 workers in 2009—or one-quarter of the factory workforce—who could not prove they were in the country legally. It was difficult to hire replacements quickly and production suffered.
More financial problems ensued. In late 2014, Charney was fired by the company's board of directors, and his job as chief executive officer was turned over to Paula Schneider. But the new American Apparel executives had a tough time righting the ship. With major loan payments due, the Los Angeles clothing manufacturer filed for Chapter 11 bankruptcy protection in 2015. It quickly emerged from bankruptcy but turned around in late 2016 to file for bankruptcy protection again.
Gildan Activewear won the bid in bankruptcy court to buy the American Apparel brand name as well as some merchandise and equipment for $88 million. Gildan—whose labels include Alstyle Apparel, Anvil, Golden Toe and Peds—decided not to keep the 3,400 American Apparel employees who worked in the brand's large factory. They were laid off in early 2017 and 110 American Apparel stores later closed their doors.