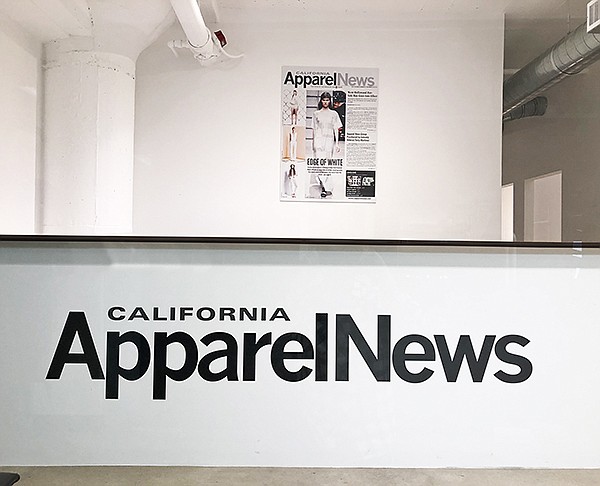 EVENTS
Ahead of Anniversary, California Apparel News Makes a Move
Nearing the milestone of reaching its 75th year in publication, California Apparel News will begin its anniversary in a new space. At the end of November, the media firm relocated to The New Mart, located at 127 East Ninth Street in Los Angeles' downtown fashion district.
Launched on July 6, 1945, as a weekly newspaper headquartered at 210 West Seventh St., California Apparel News has served the state's fashion-and-garment industry by reporting on stories from Los Angeles, throughout the nation and around the globe, sharing how these issues impact the local apparel business. Prior to its move into The New Mart, the media company was located in the California Market Center for approximately 30 years. In 2013, the publication was bought from MnM Publishing by industry veteran Terry L. Martinez, owner of TLM Publishing Inc., and a member of the California Apparel News staff since 1998.
"We are thrilled to be a part of The New Mart's fashion legacy and future plans and are proud to have been a part of establishing the CMC as a fashion destination," Martinez said.
California Apparel News's move into The New Mart is the beginning of a new partnership between two of the Los Angeles Fashion District's most recognizable names, hailing from an era defined by robust apparel manufacturing. Built in 1926 by Curlett & Beelman, The New Mart originally opened as the Harris Newmark Building, a homage to the Los Angeles businessman whose children wanted to honor his philanthropic efforts.
Over the years, the building has housed retail, manufacturing and financial businesses. In 1980, the building was purchased by Joyce and Ben Eisenberg, who renamed it "The Newmart Building." The title of the building was transferred to the couple's philanthropic organization, The Ben and Joyce Eisenberg Foundation, which receives net profits from the property as donations to fund medical research, education and community programs. Recognized as a historical landmark in 1998, the building now serves as a home to wholesale fashion showrooms.
"Over the last 35 years, we have not only had a great partnership with CAN, but we have made lifelong friends with the people who publish the news about our industry, and we are thrilled to have CAN start the next 35 years inside our doors," Joyce Eisenberg, the foundation's president, said.
With the beginning of 2020 drawing near, Martinez looks forward to the fresh start for California Apparel News during its anniversary year.
"As we approach our 75th anniversary, we remain committed to sharing with our readers the regional, national and international news that influences the apparel business in California as our industry continues its exciting evolution," Martinez said.